News that the project had received £1,199,383 from the Regeneration Capital Grant Fund saw Carluke Development Trust members jumping for joy – understandably, given many of them have been dreaming of the mill's restoration for decades.
The Trust hopes that the major cash injection will now result in other funding applications to Historic Environment Scotland and the National Lottery Heritage Fund coming to fruition.
All things being well, the Trust hopes work will start on the restoration project in May.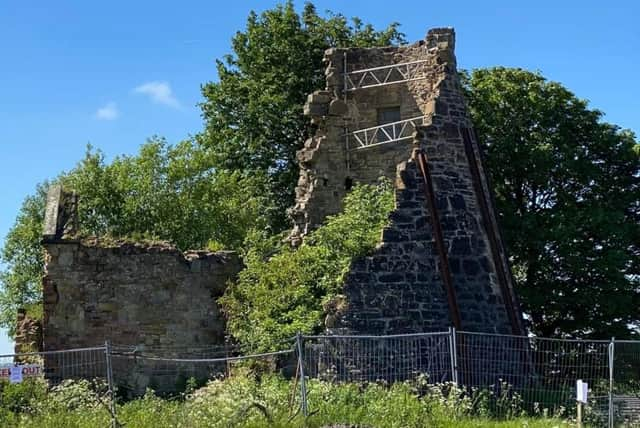 Chairman Tom Sneddon said: "This is brilliant news – this grant will help to make things happen and make a real difference."
High Mill was one of 23 projects in disadvantaged and rural communities across Scotland to receive a share of almost £27 million.
Carnwath Community and Business Enterprise Hub was also celebrating, having received £275,000 from the fund.
Councillor Robert Brown, the council's community and enterprise resources chairman, said: "The High Mill project will create a community-led facility that will provide sustainable resources and access to training, education, volunteering, employment, business and heritage.
"The hub in Carnwath will re-energise and transform economic growth in that community, developing a site in the heart of the village centre that has been the key barrier to the area's growth."
In Carluke, the cash is earmarked for rebuilding and restoring the town's High Mill, which has been a dream for many years.
Thanks to the £1,199,383 cash injection from the Regeneration Capital Grant Fund, that dream is one step closer to becoming a reality.
Delivered in partnership with COSLA and local authorities, it is hoped this major grant will help other funders pitch in too – applications for £800,000 each to Historic Environment Scotland (HES) and the National Lottery Heritage Fund are more likely to be secured now.
Project manager Bill Anderson was over the moon.
He said: "The Trust has been working on this project for a long time now; for some members, it's a dream they've had for nigh on 40 years.
"Everyone involved in the project was jumping for joy when the news came through. It means we can finally see work start on the mill itself. We've done a lot of work in the grounds and gardens but we're now hoping to make progress with the buildings.
"We're hoping to hear from HES and National Lottery in the next couple of months – the £800,000 from HES would be for the Mill restoration while only a quarter of the lottery funding is for phase one, with the remainder being used for phase two and three.
"We're hoping that, if we can get all the funding in place, we'll have the scaffolding up to start rebuilding and restoring the mill by May of this year, with completion by August 2024."
Phase one in the Trust's plan would see the mill tower, thresher barn, kiln and a building on the east side of the site restored. A two-storey cottage attached to the buildings will also be restored to its former glory and a changing place facility – a specially adapted toilet for disabled visitors – installed.
Phase two will see the construction of a new reception and welcome centre, with the reinstallation of the mill's machinery – removed for safe storage by the High Mill Trust some 30 years ago.
And the final phase will see a new building created on the site, offering a flexible space for community groups to use, at the back of the heritage buildings.
Bill added: "There's a lot of work to do before we get to that stage – the final phase is pencilled in for 2025-26 – but receiving this funding means we're one step closer."
The Trust's chairman Tom Sneddon was equally delighted by the announcement, stating it was "brilliant news".
He added: "This is a very crucial first step in pulling together the financial sums required to bring this important local and national landmark back to life.
"It will be great to get the contractors onto site to demonstrate progress after all the years of feasibility studies."
Carluke Parish Historical Society has been heavily involved in the restoration plans too.
Honorary president Christine Warren said: "We adopted High Mill as our logo in 1979 and society members have been involved since then in the many attempts to bring the mill back to life.
"We have always hoped High Mill could once again be a centre for community life, where the story of not only the mill but also of Carluke and its people can be celebrated."
Local politicians were also delighted at the news.
Clydesdale MSP Mairi McAllan said: "This significant funding for Carluke High Mill is testament to both the huge potential of this project, and the vision and dedication of those working on it.
"I have had the pleasure of visiting High Mill with Carluke Development Trust and volunteers to see work already underway and to hear their ambitious plans for the future.
"I can't wait to see the regeneration project progress and I have no doubt this funding, which is a huge vote of confidence in the development, will be instrumental in seeing High Mill return to its rightful status as a landmark and hub of community activity, for Carluke and wider Clydesdale."
And Lanark and Hamilton East MP Angela Crawley said: "It is fantastic news for Carluke. In 2018, I was privileged to dig the first spade to help get this project underway and it has come on leaps and bounds since, despite the challenges of the pandemic.
"Carluke High Mill has played a significant role in the town's history and this funding will go a long way to ensuring that it is still at the heart of the community for generations to come."