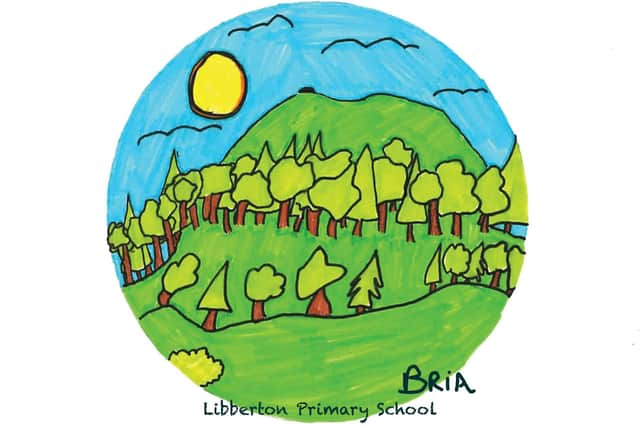 The winning logo by Bria from Libberton Primary School features on the front of the questionnaire.
With that in mind, they secured Clyde Wind Farm funds to develop a community questionnaire and action plan.
From today (Monday) onwards, community councillors will hand deliver questionnaires to every household in Quothquan, Thankerton, Covington and Libberton.
Their aim is to get local residents engaged in the process, feeding into the plan and volunteering to lend a hand.
For while the community council works hard for the benefit of residents, it is unable to take projects forward on its own.
Members also need a clear consensus from the local community on issues concerning them, so that they can lobby people in power to improve facilities.
That's why every household, and people of all ages living there, are being asked to feed into the plan.
Liz Steele, from Crawfordjohn, has been working on the questionnaire, hand in hand with Kirsten Robb from Community Action Lanarkshire, since last November.
The subsequent Covid lockdown meant a small delay in its delivery but it is now ready to hit the streets.
Liz said: "The questionnaire focuses on two main areas, projects the communities want to see taken forward and issues, such as transport and broadband which, with a mandate from locals, the community council can use to lobby people in power.
"It is not in the community council's remit to develop projects so it is hoped the questionnaire will also prompt people to come forward who want to make their communities better.
"For example, one of the questions relates to the village halls and what people want to see taking place in them.
"Thankerton Village Hall, however, is in need of refurbishment and we'd love to see people in the community coming forward who would be keen to start working on that project."
The questionnaire's aims are ambitious, to serve as a driving force for improvements in the villages.
For that reason it was important to get local people involved from the very start.
The community council asked Libberton Primary School pupils to design a logo for the questionnaire – featuring their favourite local landmark.
Liz said: "The judges had a hard task selecting from over 20 entries. Bria (P6) was the overall winner and Leon (P1-3) won the younger class."
Four local businesses also agreed to donate prizes; each returned questionnaire has the chance to win one of four prizes from Carmichael Bistro and Tearooms, The Orchard in Biggar, Damn Delicious and Tinto Tearooms.
Liz added: "The community council is hoping to get a record number of returns of completed questionnaires.
"All returns will be used to create a Community Action Plan. Responses are vital to help improve life in this area in the future."
People can complete the questionnaire by the preferred option of using the QR code or web link or return the hard copy to any of the addresses listed by May 23.