Remember Scotland's fallen heroes on your doorstep at 11am
Remembrance Sunday will look very different today, with many events smaller than usual to ensure social distancing.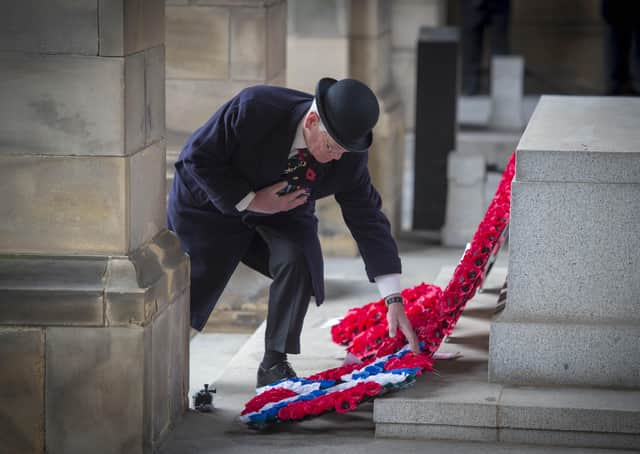 A time to reflect... but most of the usual memorial services across Scotland cannot take place today.
The national remembrance events scheduled to take place in Edinburgh today, Remembrance Sunday, and Armistice Day on Wednesday, November 11, will not be open to the public.
Events are not permitted in areas placed in coronavirus tiers 1 to 4, which means that traditional remembrance services and parades at outdoor war memorials had to be cancelled.
Services held in places of worship can proceed if undertaken in line with Government guidelines but will be limited in size.
Poppyscotland's head of fundraising Gordon Michie hopes people across Scotland will observe the two minute silence today at 11am - on their own doorsteps.
However, Legion Scotland and Poppyscotland are encouraging alternative arrangements to be made for marking remembrance this year.
The public are being encouraged to take to their doorsteps at 11am on Remembrance Sunday and Armistice Day to mark the two-minute silence.
While the annual Remembrance Day event at the Cenotaph in London will go ahead, it will be a much-reduced affair.
The BBC will televise proceedings from the Cenotaph today and both charities will be broadcasting a virtual service of remembrance on November 11.
Gordon Michie, head of fundraising at Poppyscotland, is hopeful that people will take the time to remember in their own way.
He said: "We're asking people to observe the two minute silence on their doorsteps on both Remembrance Sunday and November 11.
"That way, they can still take part in Remembrance, albeit with their neighbours rather than at local war memorials.
"With local lockdowns in the central belt and Covid-19 cases on the rise across the country, our main priority is to ensure everyone is safe.
"Remembrance will look different this year but we are asking people to take the time to remember our heroes."
Dr Claire Armstrong, chief executive of Legion Scotland, agreed that "public safety was paramount".
She added: "The Scottish Government guidance means that it is simply not safe to proceed with our planned national events.
"It also means that, for most of the country, local remembrance events cannot take place either.
"However, we can and must take time as a nation to observe the two-minute silence safely, and ensure we come together in spirit to pay our respects to those who made the ultimate sacrifice.
"While we cannot stage our traditional Remembrance Sunday event at Edinburgh's Stone of Remembrance, we will be holding a small private service and wreath laying within the Scottish National War Memorial at Edinburgh Castle, highlights of which will be broadcast via the news media and our social media channels afterwards.
"This service will be conducted in strict adherence with Scottish Government guidelines on places of worship, with only a very small, invited number of wreath layers in attendance.
"Legion Scotland will also lay wreaths at the Stone of Remembrance on behalf of those organisation who would normally attend in person."