Remembering the area's fallen heroes
Shortly we will be marking Remembrance Day, which was initiated to remember those that died in World War One but now is about those who died in any conflict since 1918.
Watch more of our videos on Shots! 
and live on Freeview channel 276
Visit Shots! now
At the beginning of the war mechanized power to draw heavy artillery pieces did not exist. Therefore, word went out to the farmers of Clydesdale that their horses were required for the war effort.
This is recorded on a film produced in 1914 of Clydesdales being assembled at Lanark Cross to go to war.
The civilian population gave great backing to the war effort, especially in the field of fundraising. The pupils of Biggar High School had an impressive display of fruit, vegetables, breads and cheeses, which was sold to the public to raise money for the Grand Fleet.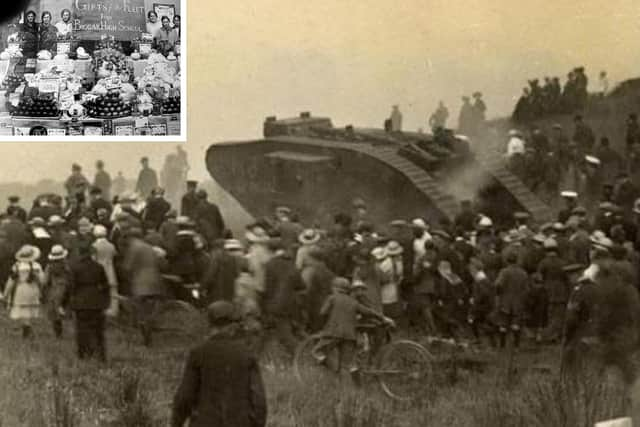 Some of them display was also sent direct to Rosyth and would have been a welcome addition to ordinary naval rations.
The Navy were not the only group to benefit from the generosity of the people of Clydesdale. In 1918 there was a crisis on the Western Front as the Germans had made a significant breakthrough so funds were urgently needed to invest not only in heavy artillery but also in tanks.
One of the tanks, called Julian, came by train to Lanark. Many had heard of the tank but few had seen one at close hand. Julian went through its paces up and down Bannatyne Street and then it trundled up Hyndford Road to the Racecourse. Unfortunately, it broke down and had to be towed back to Lanark.
However, the people of Lanark were so impressed with it that £5000 was raised as a result of the display, an enormous sum of money in those days.
Local businesses played a significant part in supplying provisions to the army. Scotts the Jam Manufacturers were involved in the supply of Tickler's Jam to the army along with other companies. This jam was a great morale booster and was even appreciated by the French!
Taking care of the large number of wounded was an area where there was much local support. St Mary's hospital in Lanark was, for its day, a very advanced hospital and many of the wounded ended up there.
Once they were better, they were employed in the extensive gardens to help with looking after the fruit trees and the vegetable plots.
St Mary's was just one of a number of places in Clydesdale to which the wounded were sent.
To cover the increased need for medical staff a number of Volunteer Aid Battalions were formed from groups of local women who were keen on doing their bit to help the war effort.
Indeed, it could be said that World War One brought out the very best in the community.
Many of the nation's 1000 public war memorials were built after the First World War. Acknowledging those who had served or died was an important way for communities to make sense of the human cost of war. One common expression of this collective grief lay in the building of memorials – which locals raised funds for.
And on Sunday, November 12, in communities all over Clydesdale, people of all ages will gather at those memorials to remember our fallen heroes.