Ringing in the project funds at Biggar Youth Project
It is 30 years since Biggar Youth Project was first launched to give youngsters, aged 11 to 18, their own space in the town.
Watch more of our videos on Shots! 
and live on Freeview channel 276
Visit Shots! now
The project has come a long way since; in 2001, moving into its very own premises at the Old Auction Ring on South Back Road.
However, like many of us, the building is starting to show its age and poor insulation in the winter has resulted in collossal fuel bills.
As a result, the project's board has been busy in the last two years bidding for funding to realise its dream of refurbishing the premises.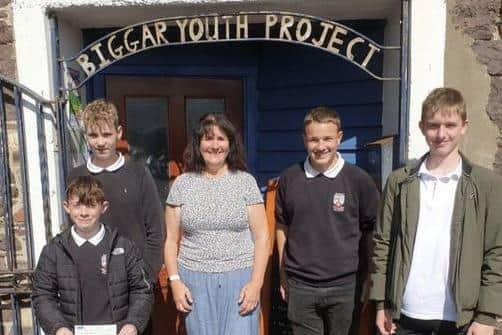 And this week, the Board, staff and youngsters were celebrating – with news that a funding application to the SSE Clyde Windfarm Community Fund had been granted.
The long-held dream can now become a reality, with grants already secured from South Lanarkshire Place Based Investment Programme, the SSE Clyde Windfarm Extension Community Fund and the Foundation Scotland Ventient Glenkerie Community Fund – bringing the grand total raised to more than £750,000.
Janet Moxley, project board secretary, said: "It has just been confirmed that we have been successful with our funding application to the SSE Clyde Windfarm Main Community Fund, which is a big piece of our funding jigsaw.
"Although we are still awaiting the outcome of a couple of smaller grant applications, this means that we are now in a position to put the building work out to tender – which we will be doing in the next week or so.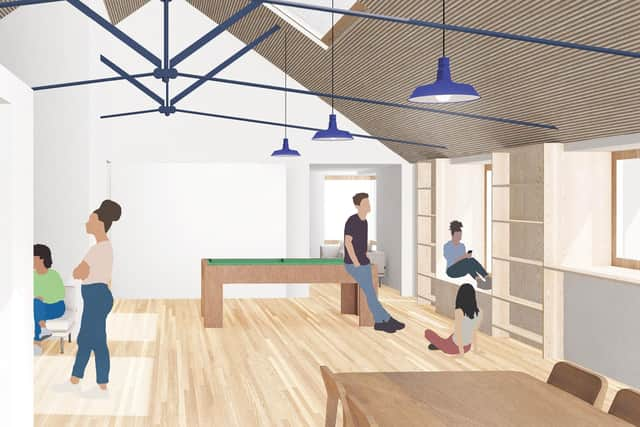 "We are delighted to have received substantial support from all of the funders and thank them for their generosity; it shows how much they value the young people BYP works with.
"The refurbishment will make our building much warmer, brighter and more welcoming and provide a unique space for young people in upper Clydesdale to call their own.
"Since we re-opened after the pandemic in 2021, BYP has been going from strength to strength and we now have around 90 members who come along regularly.
"We hope that, after the refurbishment, the exciting new look to the building will encourage even more young people to get involved."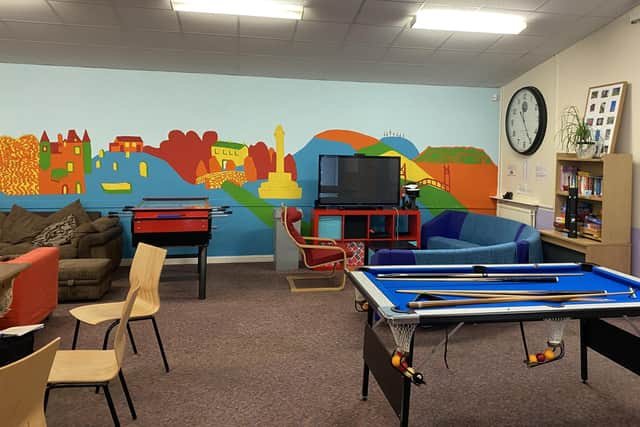 The refurbishment will transform the Old Auction Ring premises, adding extra windows and upgrading the internal layout, as well as improving energy efficiency by more than 60 per cent thanks to a combination of increased insulation, solar panels and changing an old gas boiler to an air source heat pump. Planning consent and a building warrant for the project are already in place.
It is anticipated that work on the refurbishment will start in late 2023 or early 2024 and take six to eight months. During this period, when normal operations will be disrupted, BYP will go on the road – running activities in hired halls in Biggar and surrounding villages.
If these prove popular there is the potential for them to become a permanent feature of the organisation's activities. The Clyde Windfarm grant includes funding for the BYP on the Road programme.
Biggar Youth Project provides a welcoming space during school lunch times, after school and in school holidays.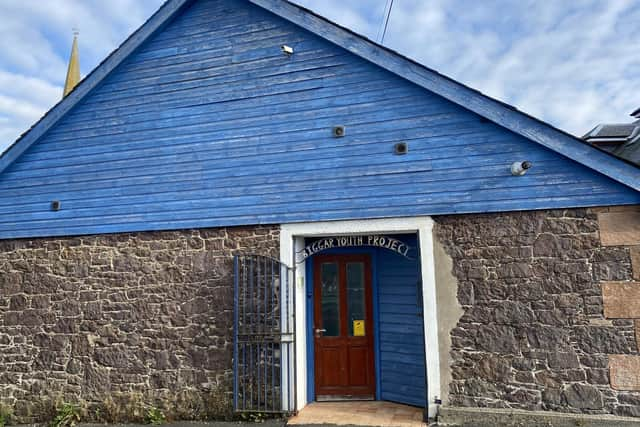 It provides a venue where young people, aged 11 to 18, can hang out and enjoy informal activities, including computer gaming, pool, crafts and board games.
In addition, support and advice is available on a range of issues which can affect them and their families, including mental health, exam stress, money matters and relationships.
As well as providing a space for young people, BYP hosts a Community Fridge as part of the Co-op's Foodshare scheme which saves short shelf-life food from landfill by offering it to the community – free of charge – and brings people of all ages into the centre.
Some of the produce is also used to provide food for the youngsters who regularly attend the project, which is open Monday to Thursday 11am to 5pm and 1.30pm to 5pm on Friday.
The youngsters who attend BYP have been very much involved in the refurbishment plans and, while not looking forward to the project's necessay closure, are excited to see the building transformed.
Sharon Hope, who has been the BYP co-ordinator since 2021, said: "It was difficult to get everything re-started after the pandemic, when I came on board.
"We started with two part-time members of staff and me; we now have five part-time members of staff and we've been doing as much as we can to encourage more young people to come along.
"The youngsters have been very much involved with the project plans and are excited, although it will mean the place closing for a while.
"We will still be here for them, though, and we're well versed on social media so we can all stay in touch."
A pumpkin pop-up shop is also being held at BYP on Saturday, October 28, from 10am to 2pm, kindly funded by the community fridge charity, Hubbub.