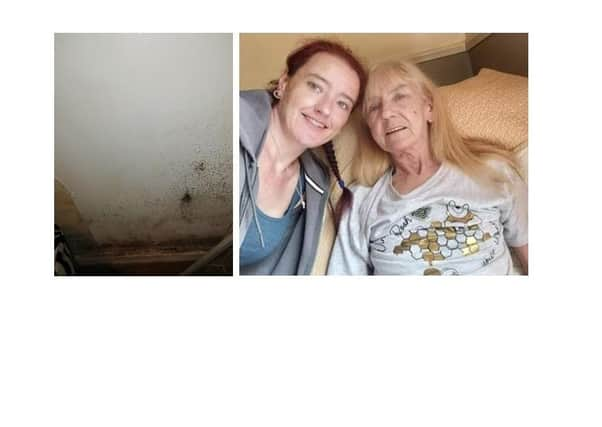 Kate McBride, whose mum Marina also has pneumonia and is currently in the Royal Alexandra Hospital, Paisley, says she has been "fighting" with East Renfrewshire Council over a move "for a couple of years".
Photos from inside their Aurs Crescent home show the impact of damp on walls throughout the property.
Marina McBride, 63, found out she had cancer around four weeks ago, and her family fear her living conditions "could be playing a part" in her ill health.
An East Renfrewshire Council spokeswoman said the tenant is now in the highest priority group for the allocation of council housing.
Marina's daughter Kate said: "Our house is riddled with damp. We have had to close one bedroom because it is so damp.
"I have been fighting with the council for a couple of years now to get a move.
"We're not getting anywhere with them [the council]. They are not interested at all."
Kate, who cares for her mum, said a surveyor had visited the house around 20 times over the last two years, telling the family the damp was the "worst he has ever seen".
They have tried humidifiers, but the problem is "just getting worse and worse", she said.
The family say they were told they were in the top priority group (A) of the council's five groups for assessing need for housing.
But they claim, following a visit from Cllr Danny Devlin, convener for housing and maintenance, they were told they are priority B – which includes a "medical need for more suitable housing".
Marina has been shielding throughout the coronavirus pandemic due to her health.
Kate also said her mum is wheelchair bound and their current flat is not very accessible.
The spokeswoman for East Renfrewshire Council said: "A specialist contractor has visited this property and advised the tenant that the issues are due to condensation.
"To assist with this we have already carried out works to the external render.
"This tenant has also been reassessed and has been awarded a special case, moving from priority B to the highest priority category, priority A."
Priority A includes special cases not covered by the allocation policy as well as those who are unintentionally homeless, threatened with homelessness or moving from the council's young person's supported housing.