Samuel L. Jackson: Pulp Fiction actor spotted filming blockbuster thriller 'Damaged' in West Lothian
Marvel star Samuel L. Jackson has been busy shooting a new Hollywood thriller in Scotland with Last of Us actor
Watch more of our videos on Shots! 
and live on Freeview channel 276
Visit Shots! now
Samuel L. Jackson has been busy shooting a new Hollywood thriller in West Lothian, Scotland.
The Hollywood legend, 74, is set to feature in upcoming action thriller, Damaged, alongside fellow acting veteran and Ocean's Twelve star Vincent Cassel, 56. The exciting new thriller is about a detective from Chicago who goes to investigate a spree of murders in Scotland.
The murder spree is said to have close links with a number of similar murders that he had investigated five years previous, so he will be looking out for patterns and be investigating the serial killers' style.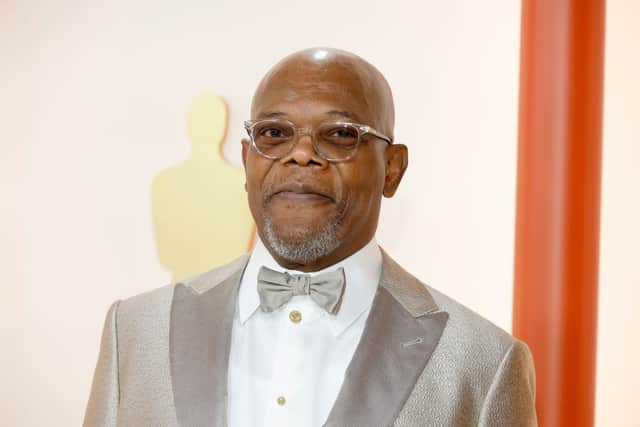 According to Far Out Magazine 'Damaged' will be the first time Jackson and Cassel have worked together, despite having over 300 acting credits combined.
The star-studded cast will also feature award-winning Scottish actor Gianni Capaldi and The Last of Us star, John Hannah.
With direction from Terry McDonough, whose credits include episodes of Killing Eve, Better Call Saul and Breaking Bad, it is no surprise that the locals were making predictions.
The film icon was seen interacting with onlookers while he stood with his umbrella on Thursday evening.
Local, Sue Smillie told The Daily Record: "They filmed in the church - Samuel L Jackson walks up the path to the church and peers in a window then goes in for a while before walking back down the path and gets into a car!"
Locals had been convinced that Jackson was filming the new Marvel production but despite the speculation, Deadline reported that studio bosses announced the action thriller yesterday.
Scottish streaming company Stream Digital in partnership with Red Sea Media and Bondit Media Capital will make the film.
According to KFTV, Paul Aniello, Stream Digital's CEO, said: "We are really excited and proud to be working with such a great team of people to bring this story to life. We have a great director; a great cast and script and we believe this will be a real success."
Producer Roman Kopelevich added: "Love this project. We have been involved with it for several years and am proud to have attracted such an amazing cast and team. Can't wait to bring it to our partners in the distribution world."
Samuel L. Jackson took to social media to confirm that filming has now wrapped on the upcoming Marvel Disney+ series posting:  "Double Goodness, Wrap Day & World Elephant Day!! Had to break out my pachypants!! Fury chills, Doaker begins Monday👊🏾👊🏾"
'Secret Invasion' which stars Samuel L. Jackson as Nick Fury and Ben Mendelsohn as the Skrull Talos, is set to air on 21 June 2023 and will consist of six episodes.
Fans took to Instagram to comment on the upcoming series.
One said: I'm so excited for this show it's gonna be 🔥
Another posted: We have been waiting for this date announcement for so long! 😃😃😃