Story of Scotland's Charity Air Ambulance is going digital
A team of experienced volunteer speakers is going digital to ensure Scotland's Charity Air Ambulance (SCAA) takes its life-saving story to thousands of people across Scotland.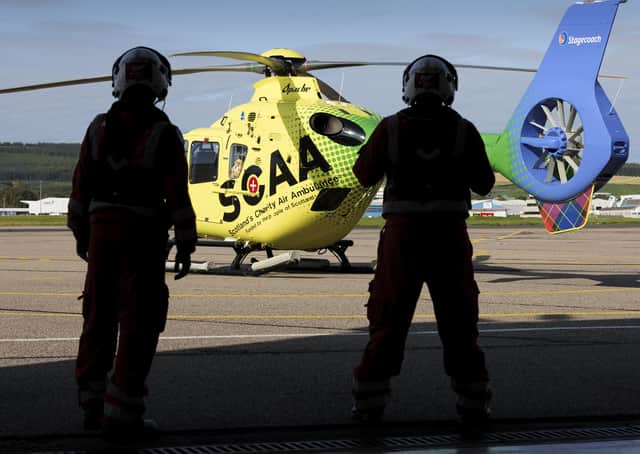 Hard at work...the SCAA continued to deliver its life-saving service during lockdown but had to cancel talks, which the charity is now offering online. (Pic Graeme Hart, Perthshire Picture Agency)
Each year, the charity – which operates two helicopter air ambulances based at Perth and Aberdeen – gives hundreds of talks to businesses, groups and organisations.
With Covid-19 restrictions calling a halt to public gatherings, a full summer schedule of presentations was shelved.
So the SCAA is now turning to technology to share the story of its vital emergency pre-hospital care service, which can be delivered to groups anywhere in Scotland.
Nick Harvey, fundraising and communications director, said: "Presentations on the work of SCAA have proved hugely popular in every corner of the country.
"While our crews continued to provide their life-saving service seven days a week throughout the pandemic, we were sorry to have had to cancel many promised talks as the restrictions took hold.
"Now we can deliver the same presentation virtually – straight into any group's online meeting."
Many organisations are holding regular gatherings via digital platforms such as Zoom, with remote guest speakers invited along too.
"SCAA has already delivered several talks," added Nick. "We want to spread the message that we're available to give presentations to groups anywhere on Scotland's mainland, her many islands or even to ex-pat groups abroad!
"Spreading the word about our work is vital to securing support for the service and encouraging fundraising."
SCAA relies entirely on public donations to fund its vital work.
The charity would be delighted to hear from any groups interested in organising an online presentation.