Welcome progress by East Renfrewshire Council on Muslim burial ground
An East Renfrewshire campaigner who called for options to be looked at for a new burial ground within East Renfrewshire for its Muslim community has welcomed recent progress made by the Council.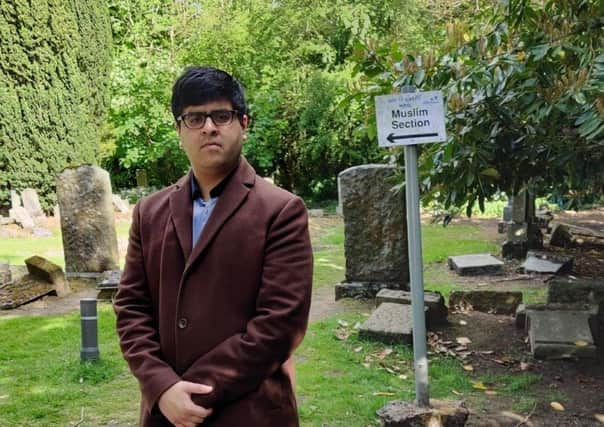 In March this year, Usman Ali, who was appointed a Queen's Young Leader in 2017, wrote to the chief executive of East Renfrewshire Council calling on the local authority to immediately explore options for a new Muslim burial ground within its boundary area.
Responding to Usman's letter, Gillian McCarney, the council's chief planning officer said: "With regard to exploring options for a new Muslim burial ground, East Renfrewshire Council is aware of diminishing burial capacity for all faiths within its boundaries.
"The council is exploring options for cemetery expansion and or new cemeteries. Unfortunately there is no suitable land within the boundaries of Cathcart and no simple option in the locality."
Usman had also raised other concerns regarding the cemetery with the council including burial choice, timing and cemetery accessibility issues.
The Council has confirmed that it has met representatives of Glasgow Central Mosque to explore these issues and has given a commitment to allow for a second burial to be accommodated if enough time was given and there was no other burials arranged.
Ms McCarney also added in her reply that "the council's roads and neighbourhood services teams are currently working together on solutions which balance the needs of access and parking at the cemetery without compromising the safety of cyclists using the existing cycle lane on Netherlee Road. The intention is to work on the development of appropriate remedies which will allow parking as well as appropriate access for any hearse or those requiring to utilise the ramp for disabled access purposes".
Usman Ali said: "I am very grateful to East Renfrewshire for responding in such a helpful and positive manner to explore the real concerns the local Muslim community faced regarding burial space, timing and cemetery accessibility issues.
"The council is aware of the religious sensitivities and I welcome their commitment to identify potential grounds to expand or build new cemeteries for all of East Renfrewshire's diverse communities.
"I look forward to helping to achieve further progress at future meetings the council have committed to with the Muslim community and others once current COVID 19 restrictions have eased."
The current Muslim section of the Cathcart cemetery is fast nearing capacity despite more area being provided in recent years.
The 2011 census reported that 3.3 per cent of the population of East Renfrewshire was Muslim, an increase of 1.2 per cent from the 2001 census.
On average, Glasgow Central Mosque is reported to administer between three and six funerals per week.