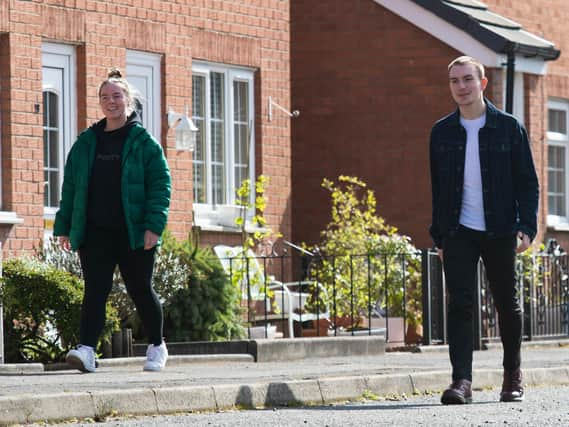 The Step Count Challenge is recruiting teams of five colleagues to sign up for the eight-week initiative which aims to get everyone moving more, sitting less and staying connected with work pals in and around the working day.
This time last year, over 420 teams took part in the challenge run by walking charity Paths for All including teachers, nurses, council employees, engineers, university staff, accountants and charity workers.
Now, back for its seventh year and starting on October 5, the autumn challenge is open to all workplaces and their employees, whether office based or working from home.
Registered teams will have access to a revamped Step Count website where they can log steps, sync fitness trackers, message team mates, and chart their progress on the leader board.
Ian Findlay CBE, Paths for All's Chief Officer, said: "The Step Count Challenge has been running twice a year since 2014 and always proves popular.
"In May, we hosted a special lockdown edition which saw over 4000 workers taking part, encouraging each other to move in any way they could.
"Now restrictions have eased, we can go out walking again as much as we want, and, with the dark nights and cooler days just around the corner, the autumn Step Count Challenge offers the perfect motivation to get active and healthy in a social, fun way.
"The lockdown months perhaps meant many of us were not as active as we'd would normally be, and some of us may even have gained a few pounds.
"Even now, with many of us working from home, we can feel like we do a lot of sitting or just spend too long indoors.
"Working life, like many other things, may still look and feel different, but there's lots of opportunities to incorporate walking and activity into our day, from lunchtime walks and phone meetings on the move to online workouts, using the car less often and enjoying fun, 10-minute bursts of activity during breaks via Zoom or Teams."
The call to join the latest Step Count Challenge comes as new research shows that taking part boosts mental wellbeing and increases social connectedness.
Researchers at the University of Edinburgh surveyed several hundred people who took part in the lockdown edition in May and found "statistically significant" changes in participants' happiness and life satisfaction.
Everyone taking part in the autumn Step Count Challenge will be motivated to reach and exceed goals throughout the eight weeks by Paths for All's blogs, tips, fun competitions, and every team will be automatically entered into prize draws worth hundreds of pounds each week.
Visit www.stepcount.org.uk to register a team for £30 or to find out more.