Peter Howson retrospective concludes with documentary screening and public interview
As the highly-acclaimed exhibition, When the Apple Ripens: Peter Howson at 65, approaches its conclusion on Sunday 1st October, this landmark retrospective reaches its grand finale.
Watch more of our videos on Shots!
and live on Freeview channel 276
Visit Shots! now
On Friday 29th September, the gallery will host an exclusive screening of the documentary Prophecy followed by an in-person Q&A session featuring Glasgow artist Peter Howson.
When the Apple Ripens traces the illustrious career of Peter Howson, from his early days to the present, featuring over 100 works over 3 galleries, assembled from both public and private collections across the United Kingdom and Europe.
The exhibition provides a unique opportunity to witness Howson's artistic journey through works never seen before in public, having been commissioned directly from the artist for private collectors.
Directed by Charlie Paul, and produced by Lucy Paul, Prophecy is an exploration of a single oil painting and the first major film to reveal the motive and techniques behind each stroke of paint as the artist creates.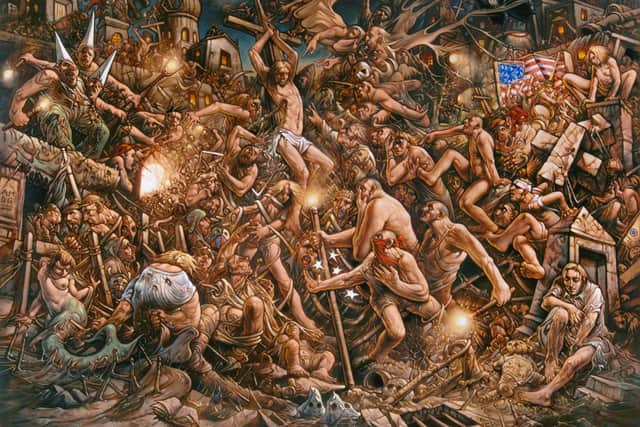 Released in 2019, the 90-minute feature documentary plunges the audience into the darkly comic, obsessive mind of Peter Howson, seeing through the artist's eye. Working from his imagination, Howson draws inspiration from world unrest, religious beliefs and mythology. What begins as a blank canvas, emerges as Howson's monumental oil painting, "Prophecy".
The film sticks deliberately and rigorously to the framework of the painting itself: observing the canvas as it is made and mounted onto a wooden stretcher; the struggle and turbulence of its creation in Howson's Glasgow studio; its journey through the commercial art world, across the Atlantic to New York for its first public exhibition; the sale and its final destination on the wall of a private art collector in London's Canary Wharf. The painting is currently on display at When the Apple Ripens.
Prophecy reveals what it takes to create a large oil painting, the techniques, the materials, the skills, the thinking behind creation, and the intensions and difficulties that push Howson to achieve this ambitious, masterful and detailed 6ft x 8ft canvas.
Prophecy will be screened on Friday 29th September. Peter Howson will be participating in a Q&A session following the screening.
Venue: Fifth Floor, City Art Centre, Edinburgh
Date: Friday 29th September 2023
Tickets: £25 (concessions £15)
When the Apple Ripens: Peter Howson at 65: A Retrospective at the City Art Centre in Edinburgh runs until Sunday 1st October 2023. A book accompanies the exhibition, published by Sansom and Co.