Piping Live! festival returns to Glasgow for its 20th edition with events underway
Drawing an annual gathering of around 30,000 attendees, Piping Live! is the world's largest piping festival, and this year marks two decades at the heart of Scotland's cultural calendar.
Watch more of our videos on Shots! 
and live on Freeview channel 276
Visit Shots! now
Today saw the annual, fan-favourite Piping Live! Big Band return for its sixth showcase, livening up Glasgow streets and performing a rousing repertoire of well-known tunes as they march from Mansefield Park in Partick to the concourse of the iconic Kelvingrove Art Gallery and Museum.
The event showcased around 130 musicians, from young learners to seasoned professionals, and welcomes participants of all ages who play chanters, bagpipes, snare, bass, tenor drums, or serve as drum majors, and will this year be held in aid of charity partner, Versus Arthritis.
Katie Robertson, 16, known online as The Wheeled Piper is taking part for the first time. She said: "When I found out I needed life-threatening, and saving, spinal fusion surgery for severe scoliosis, I became determined to progress on the pipes. It was my piping that saved me, both physically as my lungs were stronger, and mentally because it was the best medicine.
"I suffer from arthritis and have since I was four, so this year's charitable cause is one that's close to my heart. I was told I would never play the pipes but I've been able to prove those doubters wrong and have had the chance to play with some of my biggest inspirations over the last two years. I can't wait to add the Piping Live! Big Band to my list of accomplishments.
"Most importantly, I feel connected in a community that accepts me for my love of music – that's why participating in the Big Band is such an amazing opportunity. It's a way for me to support a charity that helps people like me. It's changing perceptions on what anyone can do too, focusing on what you can do, not what you can't. I can't walk, but piping's more impressive anyway!"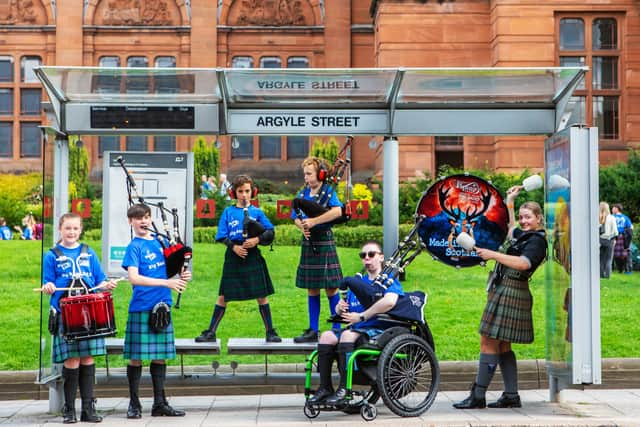 Finlay MacDonald, Artistic Director for Piping Live!, said: "The Big Band is such a fitting way to get the Piping Live! celebrations underway, welcoming pipers and drummers of all ages and abilities to play together and entertain the people of Glasgow. The inclusive and celebratory nature of this march really epitomises what the festival is all about and heralds in a fantastic week ahead for our 20th edition.
"We've got an incredible programme of world-class performances, music sessions, recitals, talks, competitions, book launches, workshops and so much more to look forward to over the coming days. I would like to say a huge thank you to everyone who has contributed to the lineup and made this year's festival possible. Whether you have bought a ticket, donated, are performing, working or volunteering at Piping Live! 2023, we couldn't do it without you.
"You can really feel the buzz of anticipation in the air for this year's event. We would encourage anyone interested to get down and experience all that the world's biggest piping festival has to offer. "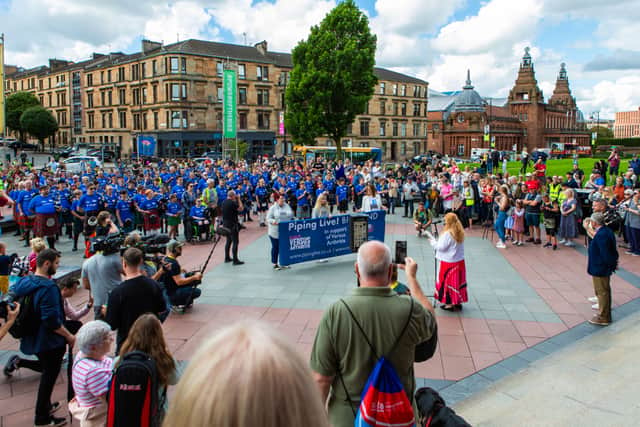 Today will also see Piping Live!'s Street Café open to the public, which runs every day this week from 10.15am. This year's gatherings promise an exciting array of free entertainment, from book signings and podcasts to musical performances from emerging and world-class talent. The drop-in space outside the National Piping Centre makes for a brilliant setting to soak up the festival's brilliant atmosphere and welcomes piping fans from near and far across the week.
This evening, the National Piping Centre will host The Masters Solo Piping Competition for both Piobaireachd and March, Strathspey and Reel. Welcoming the best competing pipers of this generation, the overall winner of the annual competition will gain qualification to the prestigious Glenfiddich Piping Championship later this year.
Throughout this week, music fans will be treated to many more performances from some of best acts on Scotland's thriving piping and folk music scene, including 2022 Young Musician of the Year finalist Malin Makes Music, Scottish and Irish traditional music outfit inB, and the innovative and avant guard Ceol Nua concert, returning for its second year and this time featuring Fraser Fifield, Graeme Stephen and Estonian piper and jaw harp player Catlin Magi, who uses loop pedals to create an incredible soundscape.
The annual Friday Night Folk gig will open the final weekend of Piping Live! with the progressive neo-trad trio Project Smok performing at Stereo. Known for their ability to effortlessly blend trad music with contemporary new-age pop influences, Project Smok will be joined by former BBC Radio Scotland's Young Traditional Musician Eryn Rae and her band, promising an unforgettable night of top-notch traditional music.
The Learn@Live! workshop series will also return with three days dedicated to different piping traditions. Held at The National Piping Centre, and running from Tuesday 15 to Thursday 17 August, these sessions will provide attendees with valuable insights into various piping techniques and styles, enriching their overall understanding of various ancient art forms.
Glasgow Life Chair, Bailie Annette Christie, said: "Bagpipes are an iconic symbol of our nation's heritage and culture, so there's something very special about hearing the streets and venues of our city resound with the music of the pipes. And whether that's traditional strathspeys and reels, modern medleys or a fusion of styles, there's no better place or time to experience the thrill of live piping than right here in Glasgow, right now.
"The Piping Live! 20th anniversary programme is packed with a diverse range of dynamic and inclusive events ranging from the ever-popular Big Band to gigs and workshops, so I'd encourage everyone to get out and about to make the most of the great entertainment in store during this year's festival, as well as the opportunities it offers to get involved creatively.
"During Piping Live! we also have the World Pipe Band Championships to look forward to on Friday 18 and Saturday 19thAugust. This year's much-anticipated 'battle of the band's will see 15 countries represented by 190 competing bands, so it promises to be a spectacular highlight.
"All of these outstanding piping events taking place really demonstrate why Glasgow deserves its UNESCO City of Music designation, and is such a world-class destination for cultural events."
Paul Bush OBE, VisitScotland's Director of Events, said: "I am delighted that EventScotland has been on this journey with Piping Live! for the past 20 years, and supporting again through our international funding programme in 2023. As everyone has come to expect, there is another packed line up to look forward to and I have no doubt this will be a landmark year to remember. Embracing a vibrant rhythm which blends tradition, innovation and culture, it has been wonderful to see the event grow and diversify over the past two decades, showcasing the global impact of our national instrument whilst reinforcing Scotland's place as a world-leading events destination."
This year's Piping Live! is proving to be more popular than ever with multiple performances selling out well in advance, including the collaborative event Canntaireachd. Celebrating the intertwined roots of Gaelic song and piping in Scotland, this all-female concert is set to bring together the talents of multi-award-winning singers and pipers, including Kathleen MacInnes, Kim Carnie, Brìghde Chaimbeul and Ailis Sutherland, along with the incredible collective, Staran.
Also sold out is the festival's incredible Closing Concert, rounding off the 20th edition with performances by some festival favourites, including the hugely talented multi-instrumentalists Ross Ainslie and Ali Hutton, who have been involved with Piping Live! since its earliest days.
The duo will perform a double header show with Uilleann piper Jarlath Henderson, who performed at the first Piping Live! festival, and guitarist Innes Watson. People can still catch the sell out show online via the Online Festival Pass, which includes around 30 hours of quality musical programming across the week.
Tickets and more information on where and when each performance is happening are available at www.pipinglive.co.uk.