Police release CCTV images in connection with attack outside Glasgow pub
A 39-year-old man was left with a serious head injury following the attack in July with the police initially thinking it was a random attack.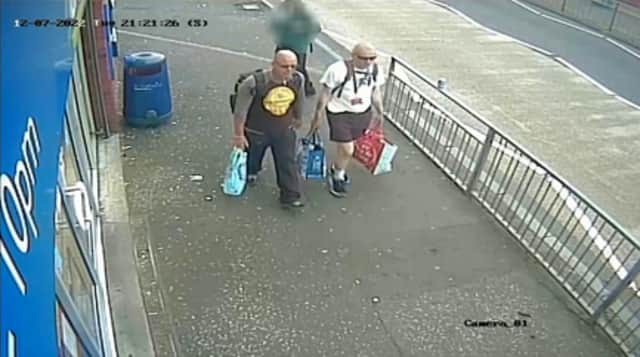 Police have released CCTV images of two men sought in connection with an investigation into a "random" serious assault on the outskirts of Glasgow.
A 39-year-old man was left with a serious head injury following the incident outside a pub on the Main Street in the village of Renton on July 12.
Officers previously described the assault as a "random attack" during an initial probe but have now released pictures of two men captured by a nearby security camera.
The first was wearing black shorts, a white t-shirt and a lanyard on the night of the attack and was carrying shopping bags in each hand and a rucksack on his back.
The second was wearing dark trousers, dark shoes and a dark top with grey sleeves and a yellow circle logo and was also carrying a shopping bag and rucksack.
Both were thought to be approximately mid-fifties, with slim builds, shaved heads and wearing sunglasses.
Detective constable Aislinn MacLeod, of Clydebank CID, asked for the men shown or anyone with information that will assist the police enquiry to contact their office through the non-emergency number 101, quoting incident number 3655 of July 12, 2022 or contact Crimestoppers anonymously on 0800 555 111.