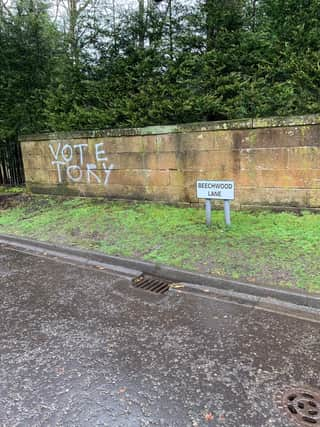 'Vote Tory' was spray painted in large white letters on the wall at Beechwood Lane at the beginning of the week.
The wall is in the ward of East Dunbartonshire Council Joint Leader Andrew Polson. Councillor Polson is also the Conservative's candidate for Strathkelvin and Bearsden in the elections on May 6.
One local resident told the Herald: "The Conservatives should be made to clean this up. What kind of supporters do they have to do this? It's just vandalism, pure and simple."
Another said: "The people who did this are just awful. Defacing private property."
East Dunbartonshire Council Depute Chief Executive Thomas Glen said: "The Council condemns all acts of vandalism, but the graffiti in question is on private property and would therefore be the responsibility of the homeowner or factor to remove."
The Herald contacted the Scottish Conservatives for a comment.
Tory candidate Andrew Polson said: "Any sort of vandalism does nothing for the democratic process as we get out and about on the election campaign trail.
"Sadly, we have seen this sort of behaviour during many elections in recent years in Scotland. However, we know it is not consigned to the supporters of just one party.
"I would encourage anyone with a keen interest in politics to behave in a respectful manner at all times across this constituency and elsewhere."