It's part of a project to update the estimated 7100 systems in time for the analogue telephone system being switched off in the UK in 2025.
The majority of service users have had their systems updated in the Lanark, Uddingston and Bothwell areas.
Work is now underway in the Larkhall and Stonehouse areas, with Cambuslang and Rutherglen at the end of this month and other council areas to follow in due course.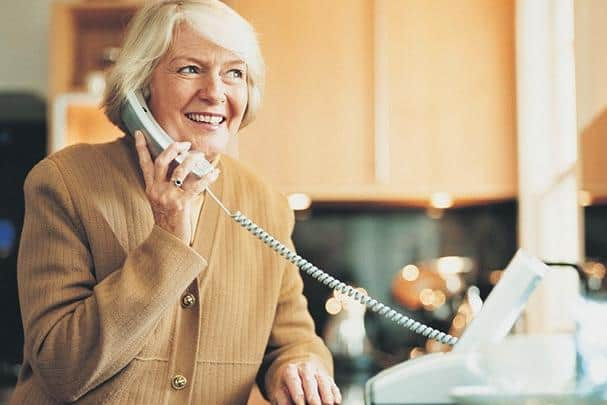 Councillor Margaret Walker, social work resources committee chairwoman, said: "Community alarm provision is so important for thousands of local people.
"I'm pleased that we are leading on these digital improvements and would like to thank the staff for their diligent work."
Some telephone providers are already switching customers in South Lanarkshire to digital hubs.
Soumen Sengupta, South Lanarkshire Health and Social Care director, said: "Digital technologies are enabling more and more people to continue to live safely in their own homes while providing reassurance to their loved ones and carers.
"Community alarms are a key and visible element of the ongoing digital transformation across our communities.
"Our staff are doing a tremendous job in taking forward these upgrades and in keeping service users informed every step of the way.
"We will continue this work for the rest of the year and beyond to ensure this vital lifeline remains in place."
It is important to inform your telephone provider that you have a community alarm and ask them to delay your upgrade, should they be be asking to do so.
You should also let the council know immediately so it can take steps to ensure your community alarm service is maintained.
You can contact the council by calling 0303 123 1008 and press 1 for Care at Home, then select the area you live in when prompted.
For our readers, this means pressing 1 for Clydesdale and Larkhall.
Analogue telephone systems will no longer be sold by retailers from September 2023 in advance of the signal being turned off.
Copper wires and analogue signals have served the nation for over a century. They've kept hospitals, schools and emergency services connected and powered card machines on high streets, as well as maintaining our conversations with loved ones.
However, it is no longer deemed as efficient as it could be. Replacement parts are hard to come by and services fail more often than operators would like, meaning it doesn't provide the world-class service that it needs to.
An Openreach spokeswoman explained: "This is why we're retiring the analogue phone network at the end of 2025.
"By then, everyone in the UK will have been upgraded to a digital phone line, providing us with a greener, faster, and more reliable service.
"This means landline voice calls will soon be transmitted digitally – in the same way your broadband works. By modernising the telephone network, we'll be able to do more than ever before, helping the UK to stay competitive on the global stage."