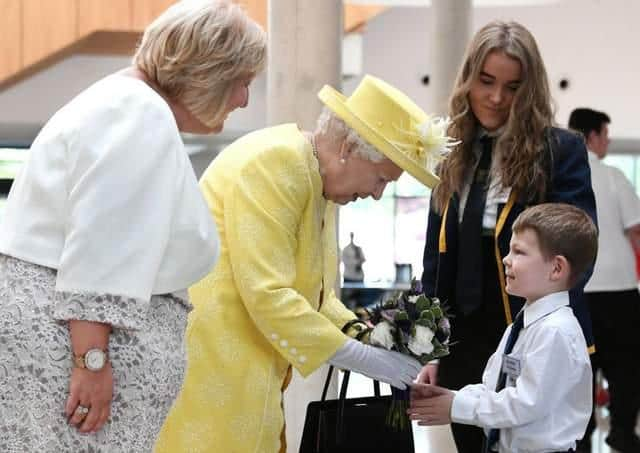 The Queen
Linda Park of Greenfaulds High School was tasked with showing the Monarch round the gleaming state-of-the art campus in June 2019 where she also met local dignataries, Cumbernauld Amateur Athletics group and the award winning North Lanarkshire Schools Pipe Band.
Mrs Park admitted: "Being head teacher of a busy, thriving school community brings many privileges but none more so than the 'once in a lifetime' opportunity to host a visit from Her Majesty the Queen The knowledge which the Queen displayed about Greenfaulds High School clearly demonstrated that she had done her homework, even knowing that we had moved into our new purpose built building only two years prior to her visit.
"During the hour long tour of the school, Her Majesty showed a keen interest in learning from pupils and staff about our community. Her first introduction was in Gaelic, to highlight the unique position of being the sole Gaelic Medium secondary provision in NLC.
"She listened to young people and showed a genuine interest in the importance that Gaelic Medium education had. We were also fortunate to have been able to invite along young people from our cluster primary schools and she took the time to visit each of the school groups in the social area. As she was introduced to the staff representatives who were presented to her as part of the tour, she took the time to chat with them all.
"She knew too that the pipe band were World Champions and had recently returned from their experience of participating in Tartan Day in New York. She even knew that there were three brothers who played in the band and had taken part in the event as a result of having received a letter from the grandmother of the boys!
"The excitement and pride in the community was palpable. And three years later everyone who was present on the day can still recall their favourite memories of a remarkable visit from a remarkable woman."