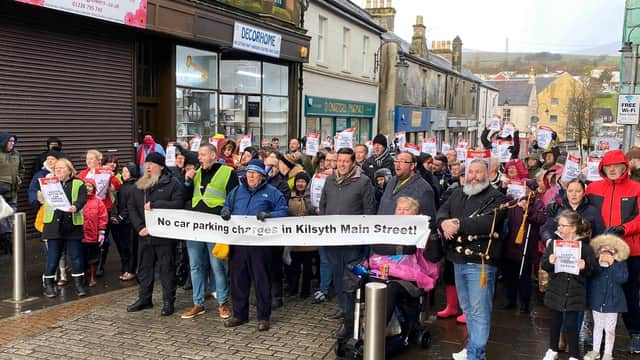 A petition bearing 6000 signatures was sent to the council by Kilsyth residents following a decision to introduce parking charges in council-owned off street parking. This was originally intended to come into force in April but delayed due to the coronavirus pandemic.
The issue was debated during a remote session of the council's Policy and Strategy committee held on Thursday, December 3, as a motion was tabled calling for the petition to be noted, for parking charges to be delayed, that a future report be submitted before any consultation on the new date for introducing the charges be considered, and that the financial impact of this decision – which was estimated to cost over half a million pounds – be noted.
Conservative group leader Councillor Meghan Gallacher and SNP depute leader Councillor Jordan Linden each presented amendments calling for the charges to be cancelled and later, following a break for discussions, agreed to present a composite amendment.
Councillor Gallacher said: "This isn't the time to even be considering this. The Conservative group believes this shouldn't be looked into until at least the end of this current administration."
Councillor Linden said the decision to go ahead with charges had been made at a previous meeting of the same committee in January, and on that occasion it had been the casting vote of convener and council leader Jim Logue which had caused it to go through.
"Despite political groups across the council being against the proposals, resulting in a requirement to have your casting vote decide whether to introduce charges or not, you chose to inflict parking charges on local people using your casting and deciding vote," he said.
Councillor Logue said: "We do not know how long the pandemic is going to be with us. We don't know whether it's six weeks, six months or six years and I think all that is being said in the recommendation here is 'wait and reflect until the stabilisation of the town centres has returned.' And at that stage we also do not know what financial position this council or any council will be in Scotland and it might very well be even more perilous than what it is at the present time. Therefore parking charges would have to come into the mix and be looked at again. "
Depute council leader Paul Kelly attacked the SNP, saying: "When you hear the SNP talk about doing what's best for communities and the people you represent they don't follow through.
"Nobody can rule anything in or out because we don't know the settlement your government is going to give us. We are fighting a pandemic, We are now going to have to find £600,000 during the pandemic when we are trying to support residents and keep them safe to work at their businesses and in their communities to try and get through it.
"These are decisions we don't want to have to take."
Following a recess, the Conservative and SNP group joint amendment was presented.
This called for parking charges to be cancelled along with related permit schemes, adding that charges will not be considered during the current council administration.
Members voted for the amendment by 14 votes to nine.