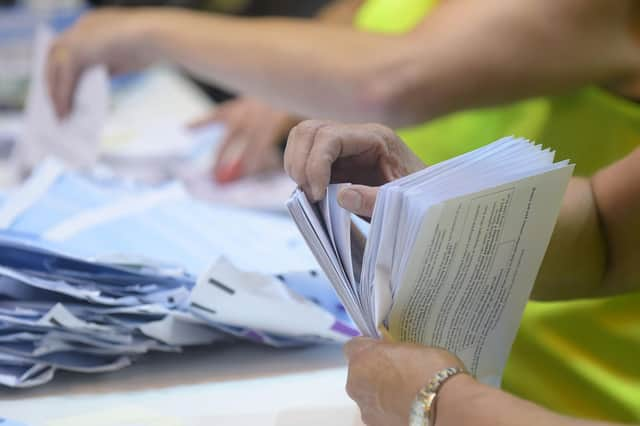 However, the returning officer doesn't expect to see a major change in voter trends, despite preparing for it.
In just six weeks, residents will go to the polls to decide their representatives at Holyrood for the next five years.
Although an increase in postal voting is expected and planned for, returning officer for the four constituencies wholly within South Lanarkshire and chief executive of the council Cleland Sneddon does not anticipate a huge shift in voter trends.
He said: "As returning officer, I'm not able to promote postal voting. I can, however, share the availability of it and I am doing that so people are aware that they can exercise their right to vote without going to the polling station.
"We're planning for a very significant increase in postal votes but I don't think it will be quite as big as that."
After a year like no other before, 2021s vote will also be an election like no other.
Some polling places have changed and additional polling stations are needed as the effects of the coronavirus pandemic have a visible impact on the election.
Mr Sneddon added: "The logistics and planning of this is an enormous exercise because this will be different to any previous elections.
"We've had our election team working on this for a long period of time.
"We are taking the learning from Public Health Scotland, from by-elections held across Scotland in the last year and also international elections.
"The experience of coming to the polling station will look different with physical distancing, screens in front of staff and greater levels of cleanliness. For example, we will be using single-use pencils."
After the poll on May 6, counting will take place for two constituencies on Friday, May 7, and the other two on Saturday, May 8.
Mr Sneddon added: "It won't be overnight like we're used to and the capacity of both the John Wright Sports Centre and the bowling club next door will dictate the numbers of people who can be there.
"The overriding primary consideration is safety – for the electorate, the staff, agents and candidates."
The vote will be held on Thursday, May 6, from 7am to 10pm; poll cards should have already dropped through local letterboxes.
If you are already registered to vote and are on the electoral register in South Lanarkshire you do not need to re-register.
Eligible voters must be aged 16 or over and must be registered to vote by midnight on Monday, April 19.
The constituency ballot paper is lilac and lists the candidates in alphabetical order. To vote simply mark a cross (X) in the box opposite the name of one candidate only.
The regional ballot paper is peach and lists a party or individual candidate. Again, to vote, simply mark a cross (X) in the box opposite the name of one party or individual candidate only.
If you cannot go to the polling station on May 6 you can vote by post or appoint a proxy. The deadline for postal vote applications is 5pm on Tuesday, April 6, while the deadline for appointing a proxy is 5pm on Tuesday, April 27.
For information on registering to vote, postal and proxy voting contact the Electoral Registration Office on 0800 030 4333 or email [email protected]