SNP
Former Motherwell councillor-turned MSP Meghan Gallagher has raised the issue of Jordan Linden at the Scottish Parliament amidst claims that allegations of sexual impropriety by the former councillor were not properly investigated.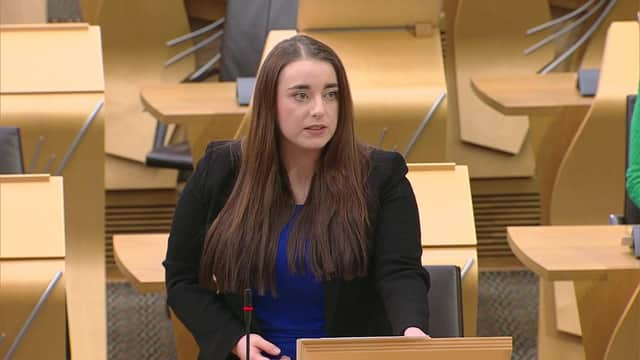 The Scottish Conservative demanded to know if Scottish Government produces any guidance for local government on how allegations of sexual misconduct against councillors should be handled.
Miss Gallagher's question was aimed squarely at Local Government minister Ben MacPherson in the Scottish Parliament
And she is now is demanding reform over how the SNP handle sexual misconduct complaints in the wake of the incident that sent shockwaves across the council.
Miss Gallagher said: "This is now the third claim of sexually inappropriate behaviour that has been made against Jordan Linden. However, instead of the supporting the alleged victims, North Lanarkshire SNP have closed ranks.
"One senior councillor even claimed that Jordan Linden had done nothing wrong and that the only thing he was guilty of was being young.
"The new SNP Group Leader may not want to address these damning allegations of sexual misconduct and the exceptionally poor treatment of Jordan Linden's alleged victims but it's part of the job."
Miss Gallagher was the latest politician to criticise Mr Linden after the man who replaced him as councillor leader, Jim Logue was vocal in his opposition to the SNP man still standing for the council.
Labour man Mr Logue was reported to have had a showdown with Mr Linden when the allegations first broke, amidst claims he was not fit for office. He then reinforced his calls for Mr Linden to stand down as a councillor this month.
The Motherwell Times and Bellshill Speaker had asked both the SNP group and the SNP party headquarters to provide a comment. Eventually, staff from the latter got back in touch, stressing that Mr Linden had stepped back for the sake of his mental health.
An SNP spokesperson said: "Jordan Linden is no longer an SNP member, however the National Secretary has reached out to the complainer."