The sacrifices of locals made in Spanish Civil War will be honoured at annual ceremony
A special ceremony to honour those in Lanarkshire who made the ultimate sacrifice in the fight against fascism in the Spanish Civil War will take place in Motherwell on Sunday (July 23)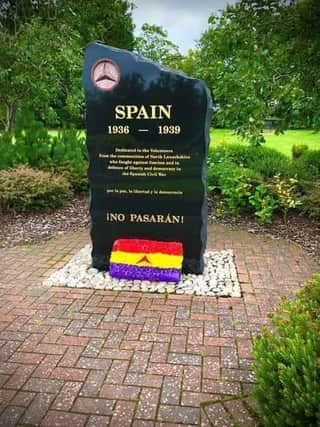 The No Pasaran Memorial Committee who have taken their name from the 'they shall not pass' slogan of the Republican Faction will in fact be commemorating the tenth year of the special memorial created in Duchess of Hamilton Park.
It was dedicated to the 40 local volunteers of the International Brigades that travelled to Spain to fight.
This included one female, journalist Ethel MacDonald.
A total of 11 local men perished in the conflict and members of the committee are determined that they should never be forgotten.
Co-ordinator Andy Jones confirmed: "The memorial service will commence at 1pm close to the park's Avon Street entrance.
"As in previous years, the agenda will be, opening comments, invited guests speaking, the roll of honour, a minute's silence and laying of wreaths.
"At 2pm, we plan to go to The Railway Tavern Motherwell for a social event with drinks, food and music entertainment."
The memorial hit headlines two years ago after vandals, thought to be right-wing extremists, daubed the stone with graffiti.
A total of 549 Scots volunteered to fight in Spain for the brigades, accounting for 23 per cent who travelled from Britain and more Scots proportionally volunteered than from any other country.
And it is estimated that a quarter of them in total never made it home.