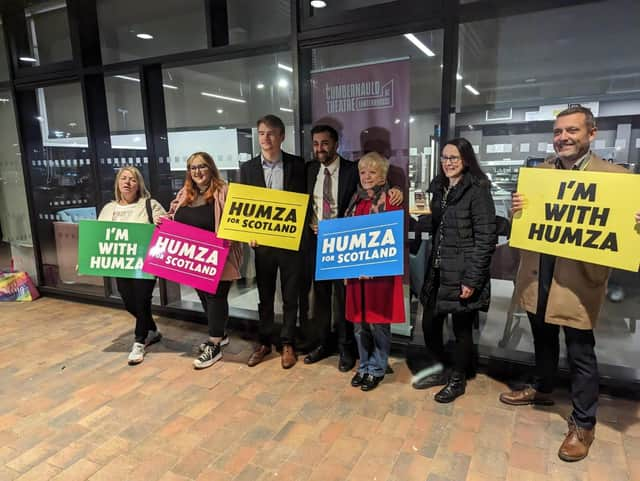 Members of the Scottish National Party had the opportunity to hear for the first time, the trio of hopefuls debate onstage.
The audience had the chance to cross-examine Kate Forbes, Humza Yousaf and Ash Regan to assess their suitability to lead Scotland after Ms Sturgeon's shock resignation.
The latter had posed for photographs next to the increasingly high profile Silvanus statue in Nethercroy to promote her own campaign, while in the area.
Among those attending the event was Cumbernauld and Kilsyth MSP Jamie Hepburn who has now revealed to his local paper which candidate he is backing in the race.
And it has also emerged that he is urging local members to back his choice.
Mr Hepburn said: "It was great to see the first of the leadership hustings being held in Cumbernauld, a reflection of how important the area is to the SNP. This was a fantastic opportunity for a packed theatre full of SNP members to hear directly from our three candidates.
"I am pleased to be supporting Humza Yousaf's bid to become my party leader and our next First Minister. I have known him for many years as someone dedicated to a progressive agenda that will deliver for Scotland.
"He represents not only a new generation of leadership but also someone with strong foundations inside the SNP. I would urge fellow SNP members to give him their support."
Voting by SNP members opens at noon on Monday (March 13)
The party's approximately 100,000 members will receive electronic ballot papers and for those without email addresses, physical papers.
The vote closes at noon on Monday March 27 and the result is expected to be declared that day.
This election is being carried out using the single transferable vote system where voters are asked to rank all three candidates in order of preference. They can choose to select only one or two candidates if they wish.