SNP leadership election result updates as successor to Nicola Sturgeon announced
The new SNP leader has been announced following campaigning from Humza Yousaf, Ash Regan and Kate Forbes.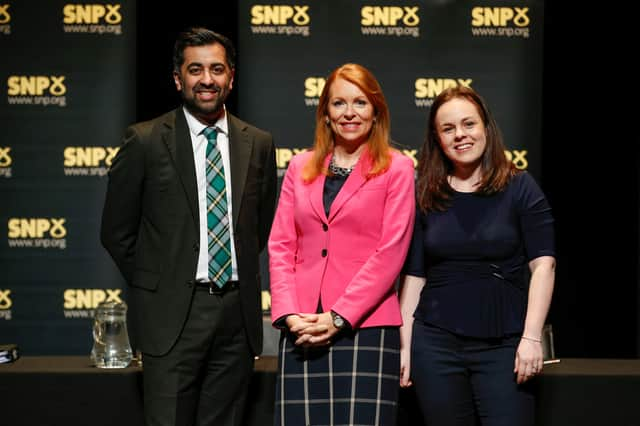 The SNP revealed the results of the two-week online ballot in Edinburgh at 2pm.
A vote in Holyrood will follow on Tuesday to select the next First Minister.
SNP leadership election result LIVE
Show new updates
Favourites for the leadership
Polls as the leadership race reached its conclusion put Humza Yousaf and Kate Forbes almost neck and neck, with Yousaf favourite among SNP voters, according to an Ipsos Scotland survey of 1,023 Scots, with a net favourability of 11%, compared with 6% for his main rival to be the next First Minister
SNP Deputy Leader Kirsten Oswald gets the proceedings underway.
Humza Yousaf has been elected as SNP party leader
Yousaf pays tribute to Kate Forbes and Ash Regan after a total of 28 hustings together.
Humza Yousaf becomes SNP leader
Humza Yousaf addresses party members as leader of the SNP during a live announcement at Murrayfield saying he feels "like the luckiest man in the world."
Pledges to work to re-earn trust and respect of the electorate and to protect Scots from the Cost of Living crisis.
First Minister appointment
There will be a vote in the Scottish parliament tomorrow to confirm Humza Yousaf as Scotland's First Minister.
Yousaf promises to lead the generation which delivers independence for Scotland.
Humza Yousaf is currently the MSP for the Glasgow Pollok constituency
SNP leadership result
Lorna Finn, the SNP's national secretary, says a total of 50,494 ballot papers were received from 72,169 eligible members.
The total turnout was 70%.
Humza Yousaf's first preference votes was 24,336.
After Ms Regan was eliminated in the first round, Mr Yousaf defeated Ms Forbes by 52% to 48%.
Once the second preference votes were redistributed he had 26,032 which represents 52.1% of the vote.
Independence pledge
In remarks after being elected as the next leader of the SNP, Humza Yousaf said: "I was determined then, as I am now, as the 14th leader of this great party, that we will deliver independence for Scotland – together as a team."