SWG3 have announced that the Art Car Boot Sale, one of Scotland's biggest and best events dedicated to contemporary art, will return this June for its fifth edition.
This showcase of contemporary art, brought to you by Patricia Fleming Gallery and SWG3, brings together over seventy artists from across Scotland and beyond, transforming the venue's vast outdoor and indoor spaces into a melting pot of creativity.
Curated by a team of industry professionals, the Art Car Boot Sale is an invitation into Glasgow's internationally recognised contemporary art sector. Giving visitors a unique opportunity to meet artists in person as they sell their artwork from their studios direct to them from the boots of cars, vans, bikes and the odd skateboard.
With prices ranging from £5 to £5000, art will be on offer from award winning artists and Turner Prize nominees with work in major collections around the world, as well as emerging stars of the future.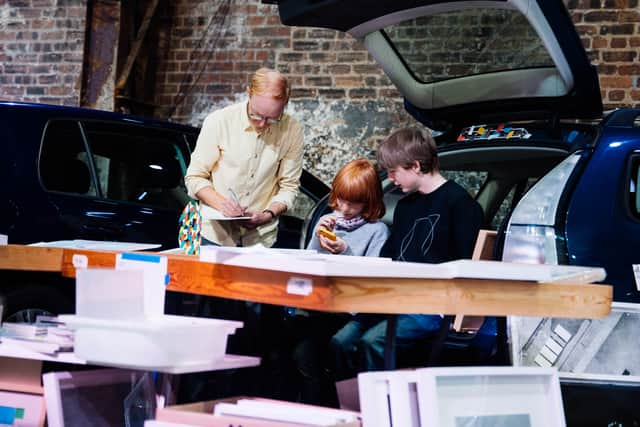 The first artists confirmed for 2023 include Claire Barclay, Tessa Lynch, Toby Paterson, James Rigler and Kate V Robertson.
To complement the day, visitors will enjoy a delicious selection of food and drinks, served by some of Scotland's finest street food vendors. Everybody is welcome, with it being child and dog friendly it's an event for all the family.
The gallery partners with Art Moneyto support interest free purchases over 10 months available for items £1000 and over.
Meryl Gilbert, Arts and Business Director SWG3, said: "We are delighted to be collaborating again this year with Patricia Fleming Gallery to bring the Art Car Boot Sale back for its fifth edition. It's always a highlight of our event calendar at SWG3 and we can't wait to welcome everybody for a weekend of incredible contemporary art."
Patricia Fleming, said: "Small pleasures; lunch with friends, meeting new folks, talking about art and leaving with an artwork you thought you couldn't afford' Art Car Boot Sale at SWG3, is Glasgow at its best."
Art Car Boot Sale takes place in June Saturday 24 (10am-6pm) and Sunday 25 (11am-5pm). Tickets are £5 and available here.