Tony Watt: Motherwell ace delighted he and fellow strikers all broke their scoring ducks for season against Glentoran
Motherwell striker Tomny Watt was delighted he and fellow forwards Callum Lang and Chris Long all brokle their scoring ducks for the season in Thursday night's thumping 5-1 Europa League first qualifying round home win over Glentoran.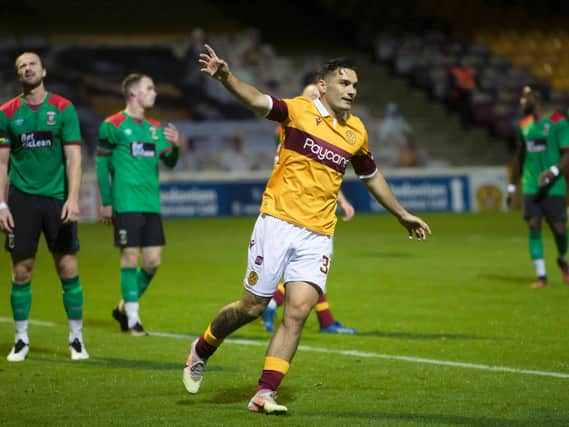 Two more second half strikes at Fir Park - by Stephen O'Donnell and Liam Polworth - saw the Steelmen through to next Monday's draw for the next round at the expense of the Northern Irish side who had Seanan Clucas sent off early in the second half at 0-0 for a second booking.
"It's about scoring goals and helping the team so hopefully I can keep at it and that's the first of many," Watt said.
"It's brilliant, we need to help the team out.
"If we can stay solid at the back and score goals at the front then you've got half a chance of winning a football match.
"We're looking good. Everything came off tonight but that performance has been coming for a few games.
"We've dominated the ball; and done a lot of good things. Now we just need to keep doing that and keep being consistent."
Motherwell produced the fine result on the same day that star midfielder David Turnbull finally completed his long-awaited move to Celtic on a four-year deal. Watt feels Motherwell have the reinforcements to cope with Turnbull's loss.
The ex-Celtic striker added: "We've got a quality player who just walked in, Liam Polworth, who is also an outstanding player. But Davie's Davie, he's a talented, talented boy. From the day I walked in I knew he would go onto big things and he's a genuine boy as well.
"He'll go in there (at Celtic) and take it by storm. He's a hell of a talent and I wouldn't be surprised if he's walking into that team and doing big things because that's the type of boy he is, the type of character and most of all the type of ability.
"He'll go in there an dhe'll be like a fish to water.
"I'm good mates with Davie, we get a laugh and I told him to get the number 32 (Watt's number at Motherwell), see him go in and he'll do well.
"But he obviously got the 14 jersey and I was a bit gutted that he never chose the 32!
"I just told him to go and do his thing. It's not about what I tell him, that boy knows what to do.
"He's a top, top player, he's not stupid and I heard the gaffer say he's one of the best talents Scotland's brought through and I don't disagree with that.
"I hope I come up against him on Sunday (when Celtic host Motherwell in the Scottish Premiership), I'll volley him straight away!
"No I'm only kidding. I'm buzzing for him but wer've got the boys Allan Campbell, Polworth, Mark O'Hara, Donnelly's obviously injured, wee Jamie Semple, Baz Maguire, Dean Cornelius.
"We've got a long list of good players and Davie was a young lad one day wasn't he? Now it's time for them to come through and show their quality."