The event will take place between 4pm and 6.15pm tonight (Wednesday) at Carstairs Community Centre on School Road.
Members of the project team will be on hand to answer questions and provide information about the three-month programme of work, which is set to get underway next month.
The line will be closed through the junction from March 4 for 16 days and engineers will be working around the clock to maximise the access to this key asset on the West Coast main line.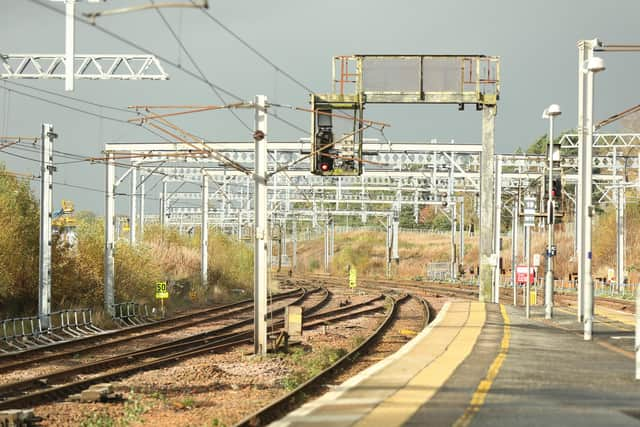 It will be a particularly intense and potentially disruptive period for those living lineside and Network Rail is encouraging residents to speak directly to the project team at the drop-in.
Jim McCleary, Network Rail's project manager, said: "Work has been ongoing at Carstairs since early 2021 but the phase we are about to enter is particularly intensive – working around the clock for an extended period of time.
"With this in mind, it's important to highlight this to the local community and to offer them the opportunity to meet the people delivering the work and to ask any questions directly to the team.
"Carstairs is a critical junction on the West Coast main line and taking the decision to close it is a major step for the whole rail industry; because of this we have to maximise every minute of the closure to progress the work.
"While this is right for the railway, we understand that it is a big imposition on the local community and we ask them for their patience and understanding as we carry out this massive investment in Scotland's railway."
Work on this strategically important route will be complex and Network Rail will work both day and night to complete it in three phases designed to manage the effect on services in the least disruptive way.
Engineers will simplify and upgrade the track layout to clear an existing bottleneck on the network, making it more reliable and better able to cope with passenger and freight demands.
It will also see the creation of Scotland's largest freight loop, capable of accommodating 775m-long freight trains to help more businesses move goods off road and onto rail.
Work at the station will be carried out in three stages.
In Phase 1, from Saturday, March 4, to Sunday, March 19, there will be no direct services to Glasgow Central and Edinburgh on the West Coast main line through Carstairs.
Phase 2, running from Monday, March 20, to Friday, April 21, will see part of the junction re-opening, allowing some trains to run directly to Edinburgh – and via diversion routes to Glasgow – on weekdays, however, journey times will be longer than normal.
And Phase 3, from Saturday, April 22, to Sunday, June 4, will see most services return to normal during weekdays with the junction fully closed each weekend.
There will be no ScotRail services to or from Carstairs for the full three-months. ScotRail will run alternative journey options until the station re-opens on May 30.