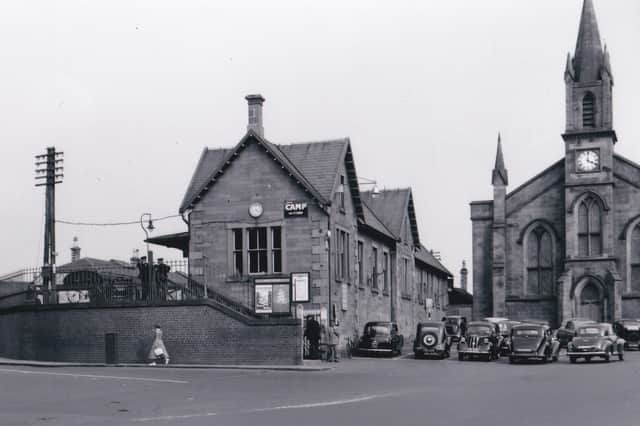 At one time, Lanark was a very important railway hub and it was possible to travel directly to Edinburgh, Glasgow and Muirkirk.
Today, it is only possible to travel directly to Glasgow.
The decision to found the Caledonian Railway Company was made in Lanark, after a meeting in the Clydesdale Inn on January 16, 1844.
Its aim was to attract investors from the gentry and local councils. The meeting was a great success but Lanark did not have a station when the Carlisle and Glasgow line opened in 1848.
It was not until 1855 that a privately financed line was in use; this was taken over by the Caledonian Railway Company in 1860.
Major investment was then made in Lanark which included the station buildings, an engine shed and a tank for storing water for the engines.
The engine shed used to stand in the area now covered by Morrisons, while the water tank was at the western end of the station underneath the area now occupied by the road up to the health centre.
In the old days, the station had heated waiting rooms, toilets and facilities where travellers could get food and drink.
There was a degree of pride in providing the traveller with all the facilities they might require, a far cry form today when there is not even a decent waiting room, let alone toilets. It seems that civilisation has taken a leap backwards!
Until the 1960s Lanark had links with Edinburgh and Muirkirk. The link to Edinburgh could be revived but there seems a lack of political will.
The Muirkirk line was built in 1864 and lasted just shy of 100 years.
It was on this line that the race course station was built in 1910 in six months to accommodate 300,000 visitors to Lanark Airshow – a remarkable achievement.
Previous generations have shown us what can be achieved. The big question is, in wake of of the government's transport report, whether we can create something to be proud of today and bring visitors to Clydesdale.​​​​​​​​​​​​​