The Met Office has issued a yellow weather warning for snow across the whole of Glasgow. The city could face major disruption including 'blocked roads' and 'stranded vehicles'.
The news was confirmed by the Met Office on Monday (March 6) and will come into effect on Thursday (March 9) morning at 3am and continue till 6pm on Friday evening. The Met Office has warned the conditions could cause significant disruption.
Earlier in the week northern and eastern areas of Scotland were issued a yellow weather warning but the Met Office has now updated the warning with fresh advice for Thursday. It's expected snowy conditions will resolve before the weekend but the 'bitterly cold' weather will persist.
The first signs of snowfall will arrive at midnight on Friday and continue until 9am when precipitation lowers to 20% and conditions change to sunny intervals. Conditions are likely to stay mostly dry heading into the weekend.
Met Office chief meteorologist Dan Suri said: "Snow, ice and low temperatures are the main themes of this week's forecast, as the UK comes under the influence of an arctic maritime air mass as cold air moves in from the north.
"Snow is already falling in parts of the north where some travel disruption is likely, as well as a chance of some rural communities being cut off. Snow showers will continue through today and Tuesday here, and Northern Ireland will also be subject to some snow showers, especially over high ground.
"Ice will provide an additional hazard for many with overnight low temperatures well below 0C for many. Further south wintry hazards will develop with parts of England and Wales affected by ice patches and snow in places tonight and likely further snow in parts of the south early Wednesday."
What to expect during the Met Office snow warning in Glasgow
The Met Office has issued the whole of Glasgow a yellow weather warning for heavy snow, which is the most mild of the three weather warnings issued. The weather organisation warn that those affected by the warning could expect the following: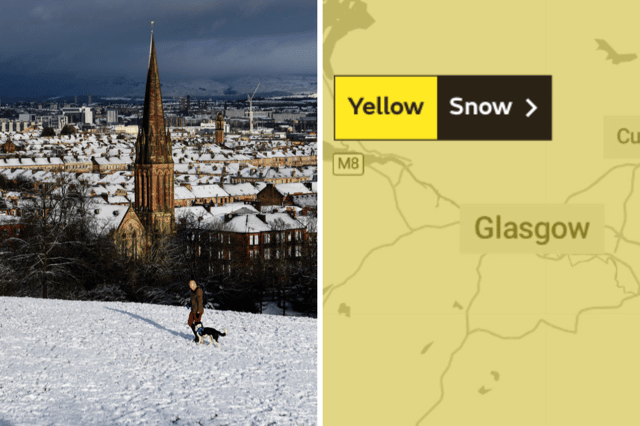 There is a small chance that long delays and cancellations on bus, rail and air travel could occur
There is a slight chance that roads may become blocked by deep snow, with many stranded vehicles and passengers
There is a small chance that communities could be cut off for several days
There is a small chance that long interruptions to power supplies and other services, such as gas, water, telephone and mobile phone coverage, may occur.
The Met Office website contains further details on how to stay safe in the snow and helpful tips for travelling.