The Met Office has issued another yellow weather warning for snow, as well as a second warning for rain across most of Scotland - including Glasgow. This comes after many parts of the country awoke to snow scenes as well as snowy showers throughout on Tuesday morning (March 14).
The Met Office has warned that: "spells of snow are likely to cause disruption, mainly over higher transport routes." They added that roads and railways are likely to be affected with longer journey times by road bus and train services.
The weather warning has been issued from 4pm on Wednesday March 15, and will last until 4am on Thursday March 16. According to the Met Office warning impact matrix, the chances of mild impact are likely.
The Met Office said: "Spells of snow are expected to develop Wednesday late afternoon and early evening, mainly in areas above 100 to 200m. Later on Wednesday evening and during Thursday early hours this snow will then turn to rain as milder weather conditions spread across the British Isles.
"Meanwhile, below 100 to 200m, snow may fall briefly during the late afternoon and early evening before turning to rain. Snow accumulations will be mainly in areas above 200 to 300m with several centimetres of snow falling in some places, especially in Scotland, and above 400 m more than 10 cm of snow is possible in places."
The Met Office has also issued a weather warning for rain from 12am until 3pm on Thursday March 16. Stating that: "Persistent rain, which will be particularly heavy over southwest facing hills, is likely to cause some difficult travel conditions". Adding that: "Spray and flooding on roads probably making journey times longer."
So, what can people in Glasgow expect from the weather in the coming days? Here's everything you need to know.
Glasgow weather forecast
Wednesday
The day will start bright but frosty with some hazy sunshine. However, clouds will increase through the morning. Outbreaks of rain, preceded by snow, spread east through the afternoon and will become heavy at times. Maximum temperature 7 °C.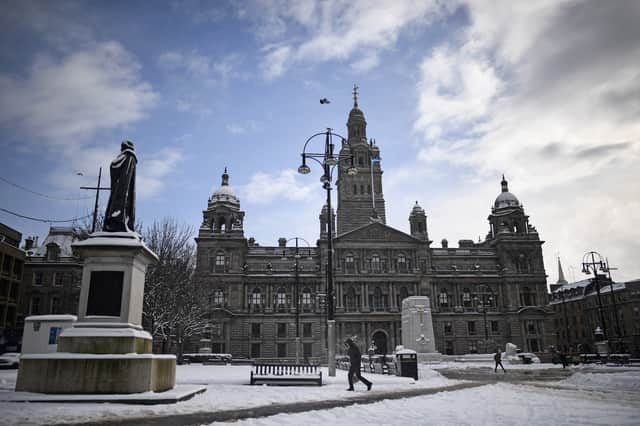 Outlook for Thursday to Saturday
Conditions will be unsettled, but much milder than recently, with spells of occasionally heavy rain, especially Thursday and again on Saturday, or showers.
Affected areas
Here's the full list of areas in Scotland that are affected:
SW Scotland, Lothian Borders
Dumfries and Galloway
East Lothian
Midlothian Council
Scottish Borders
West Lothian
Strathclyde
Argyll and Bute
East Ayrshire
East Dunbartonshire
East Renfrewshire
Glasgow
Inverclyde
North Ayrshire
North Lanarkshire
Renfrewshire
South Ayrshire
South Lanarkshire
West Dunbartonshire