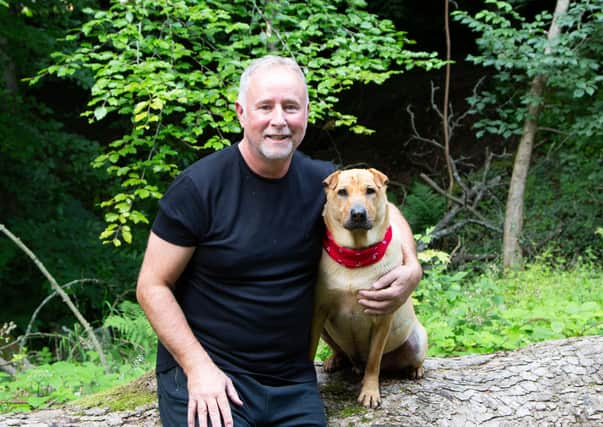 The shar-pei crossbreed hit the headlines after being abandoned at a train station in Ayr with a suitcase of his belongings in 2015.
Scotland's animal welfare charity found Kai his loving forever home later the same year with Ian , who lives in Newton Mearns.
Kai and Ian will be taking part in the Pound for Paws challenge, supported by Olympian Laura Muir, by running 30km in 30 days over the month of August.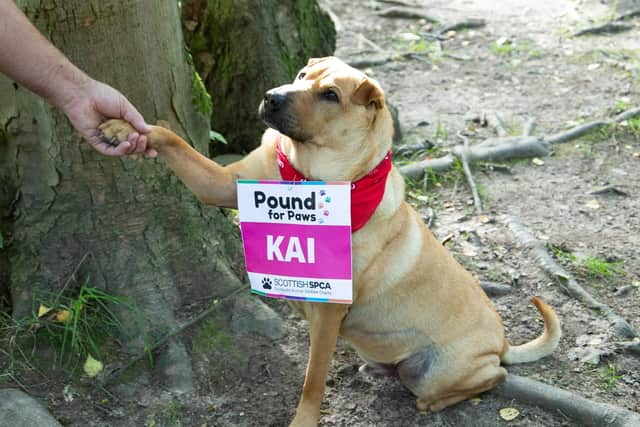 Ian has previously run the London marathon for the Society and regularly runs with his pet.
Ian said: "Rehoming Kai was the best thing I've ever done. I feel grateful that he is in my life.
"I take him everywhere with me and he loves being outdoors, which is lucky as I do too.
"I believe it was fate that Kai and I were brought together.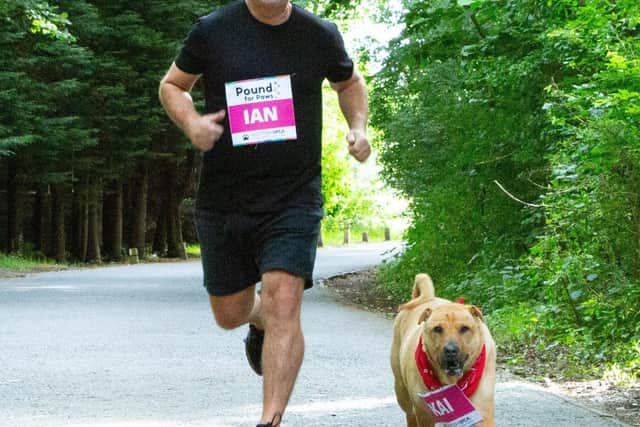 "I decided to take part in Pound for Paws for the Scottish SPCA as they are a wonderful charity that finds forever homes for animals in need like Kai.
"I'm honoured to be doing the challenge with the support of Olympian Laura Muir. I'm excited to get started and I'd encourage everyone to take part!"
Members of the public should always consult a vet before undertaking any fitness activity with their pet.
Scottish SPCA's Katrina Cavanagh who helped care for Kai said: "We are thrilled to have Kai and Ian and Laura Muir be part of Pound for Paws.
"Kai is probably one of our most famous rescue animals. The image of him alone at the train station with his suitcase resonated with people worldwide.
"We were overwhelmed with people wanting to rehome him. But in the end he went to his loving forever home with his soulmate and we could not be happier for them both.
"Ian has been so supportive of us in the past by running the London Marathon and taking part in other events.
"We want as many people to join Kai, Ian and Laura to run 30km in 30 days. The challenge is suitable for everyone, whether you're an experienced runner or brand new to running. Laura will also provide tips and encouragement along the way.
"We want as many people as possible to take part and raise funds for Scotland's animals so that we can do Kai proud by helping as many animals as possible."
Pound for Paws with Laura Muir will be running for the month of August 2020.