Christopher Walken is a long-standing Hollywood hero, starring in huge films like The Deer Hunter and Pulp Fiction, he's one of the world's most recognisable actors - but did you know about the Easterhouse connection to his origins? Or his patronage of several Glasgow pubs?
In fact, Walken rates Glasgow as one of the best cities in the world - owing a large part of his affection to the city from his Glaswegian mother, Rosalie Walken, who was born here.
In an interview with the Daily Record in 2001, Christopher Walken said about the city:"Glasgow, I find, is a beautiful city - and fascinating culturally. It was amazing, a lot of fun. I love Glasgow. It has a bad reputation - but all the best places and people have bad reputations."
Rosalie Russell was born in Parkhead in the East End in May 1907, the daughter of Mary Burgess Russell, a domestic servant and Joseph Egen, a leather merchant. She had family connections to Clydebank.
After living in Easterhouse, in 1930 she left Glasgow alone aboard a ship bound for the United States.
Settling in Astoria, Queens, a borough of New York with a big immigrant community.
She took a job at a bakery owned by the family of German immigrant Paul Walken, with whom she fell in love.
They married in 1936 and had three children, Ken, Glenn, and Ronald - the latter of which would change his name later in life to Christopher as he began to get acting work in Hollywood.
Walken is perhaps most recognisable from his distinctive voice and inflection, often imitated, which was possibly a result of growing up in New York with German and Scottish parents - quite the eclectic mix. He has spoken about his experience of having a mother and father with strong accents: "My mother was very Scottish, and proud of it".
For most of her life, Rosalie was an aspiring stage actress and dancer, no doubt a big factor in her emigration to America.
While she never fulfilled those acting ambitions, she shared her dream with her sons.
She never could have imagined as a young girl in working-class Glasgow that one day her son would become one of the most recognisable actors in Hollywood.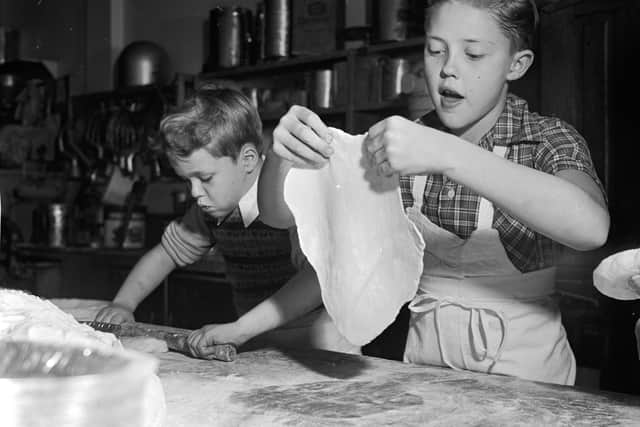 Continuing his interview in the Daily Record back in 2001, Walken said:"You know, a whole part of my family live in Glasgow. That's where they came from and many of them are still there.
"My mother lived there until she moved to New York.
"They were mainly shipyard workers and two years ago I was over looking up aunts and uncles and other relatives and they have now been over to see us in the States.
"I would love to play theatre there. I could happily live in Scotland and I don't mind being around our family."
Christopher Walken, who famously has a distate for travel, visited Scotland back in 1999 to track down some of his extended family still living in the Glasgow area.
In the interview, Walken refused to elaborate further or identify his relatives by name, but added: "They are all extremely interesting ... characters."
During his visit to the city just before the turn of the millennium - arguably at the height of his fame - Walken was spotted around a few Glasgow pubs, much to the surprise of locals.
Walken visited the Horse Shoe Bar at least once while waiting to get picked up by a cousin according to the independent online community Lost Glasgow.
The Hollywood actor also frequented the Press Bar on a few occassions - A photographer for The Herald found him there and took a picture that ran with the headline: The Beer Hunter.
It wasn't just a passing interest Christopher Walken had in his heritage either, as 12 years later in 2011 - Walken approached media personalities Colin and Justin on the red carpet of the Toronto Film Festival after hearing their Scottish accents.
The pair were taken aback when Walken revealed to them that his mother was from Easterhouse, and he told them he was pleased to hear about the regeneration and investment the area was seeing at the time.