Karen Gillian has apologised to fans for her uncool pose on the new Guardians Of The Galaxy poster.
The Scottish actress, 35, will be reprising her role as Nebula in the third movie of the superhero franchise.
The Doctor Who star took to TikTok earlier this week to offer a jokey apology to Marvel fans for her choice of pose on the poster for the upcoming film.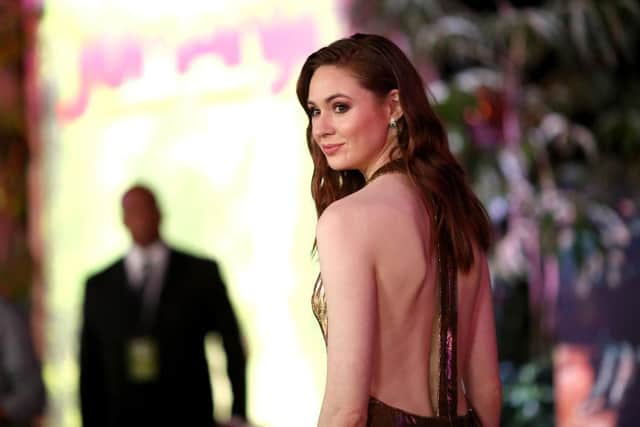 Karen said: "Okay, can anybody out there tell me what I was thinking when I decided to pose like this on an international, worldwide poster that will remain forevermore?
"I remember doing this pose and thinking, 'I think I look pretty cool here.' So I take full responsibility for this choice, but oh my God, what am I leaning against? What is my elbow doing?"
Reenacting the pose to the camera, the actress added: "Maybe I should double down and make this pose a thing. Maybe I will do it on a couple of red carpets, see how it takes. It might become a new thing, like when men check their cufflinks."
The 35-year-old continued: "I stared at it for so long, I was like, 'Oh maybe, I'm reaching for a weapon to take out and fight someone,' and then I remembered that I'm not wearing a holster or anything that would carry a weapon, so it's not that either.
"You'll be seeing that pose again somewhere where you'll least expect it."
The video racked up a stream of comments from Marvel fans, with one writing: "okay but the awkward posing is so on point for Nebula"
Another said: "I think it's exactly the kind of pose Nebula would do to look cool so you have clearly tapped into the character on every level."
Despite her complaints, Karen excitedly shared the poster to her Instagram, telling her fans that the third Guardians Of The Galaxy film will be released on Friday 5 May.
The Guardians Of The Galaxy Vol. 3 trailer features flashbacks about Rocket's (Bradley Cooper) origins, hints at a relationship between Quill and Nebula and gives fans a better look at Adam Warlock (Will Poulter).