Boris Johnson 'Partygate' Privileges Committee: what we learnt from the former PM facing cross party committee
Former Prime Minister Boris Johnson was insistent during the committee of  his innocence and repeatedly said the gatherings did not break Covid lockdown restrictions
Watch more of our videos on Shots! 
and live on Freeview channel 276
Visit Shots! now
Boris Johnson faced probing questions from the Parliamentary Privileges Committee today (March 22), with proceedings getting under way with Mr Johnson swearing on a bible. He swore that the evidence he gave at the committee was "the truth, the whole truth, and nothing but the truth".
In his opening statement, Mr Johnson told the committee, which was chaired by Labour's Harriett Harman, that "hand on heart, I did not lie to the house".
One of the Conservative MPs attending the cross party committee in support of Mr Johnson was Jacob Rees-Mogg. Fellow Conservative back bender Michael Fabricant was also present. Ex-trading minister James Duddridge and Conservative MPs Lia Nici and Jane Hunt were the other MPs watching the proceedings.
The proceedings began at 2pm on Wednesday and continued until amost 5.30pm with two interruptions to allow attending MPs to vote. One of the votes was on the Windsor Framework legal agreement.
Plenty was discussed during the hearing, with questions from panel members (link to who they are piece) to the former prime minister. Here's what we learnt.
Reaction to photos
During the inquiry, Mr Johnson was shown photos of the incidents. These photos were dated around November 2021.
In a defensive response, Mr Johnson said: "These photos have now been churned through the media for more than a year, and it seems to be the view of the committee and, sadly, many members of the public that they show me attending rule-breaking parties when no one was social distancing.
"They show nothing of the kind. They show me giving a few words of thanks at a work event for a departing colleague."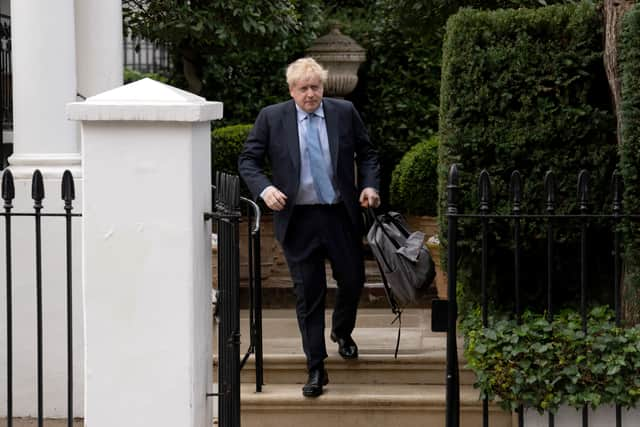 Quick change of answer
Sir Bernard Jenkin quizzed Mr Johnson on one event in particular which took place on 10 November 2021. The leaving party for a member of government staff saw Mr Johnson give two answers.
He said at first that he was not at this particular event. However, this answer was changed shortly after as the former PM said he was present, but only for a short time.
Scrutinising Mr Johnson's comments to House of Commons
A portion of the committee meeting was reserved for the scrutiny of Mr Johnson's comments to the House of Commons about the gatherings. It can be argued that these points are amongst the most important to be discussed at the committee as it is these which are at the centre of whether or not Parliament was misled.
On November 30, 2021, Mr Johnson told Parliament that staff at Number 10 were "doing a huge amount to follow guidance". The former PM went on to say that the event being discussed at this point, which took place on December 18, had people drinking at their desks.
Mr Johnson said that he believed this was allowed. He said: "I concluded that it sounded to me as though that event was within both the rules and the guidance." and added that he didn't think the drinking at desks by government workers was "improper or offensive".
Determined to reiterate innocence
Throughout the committee meeting, Mr Johnson was adamant that rules had not been broken at the events for which he was being questioned. "If anyone thinks I was partying during lockdown, they are wrong." is a line of which Mr Johnson reiterated in various forms throughout the proceedings.
Thanking staff "essential" according to Mr Johnson
In reference to the event on November 13, 2020, Andy Carter MP brought up a written statement which Mr Johnson had written at the time. In the statement, he wrote that he didn't believe "perfect compliance" with social distancing was required by the time of the event.
This was a point which Mr Carter called the former PM up on. He said: He is asked: "If you believe this, why did you not make it clear when you told the House that the guidance was followed at all times?"
In response, Mr Johnson said: "I thought that it was essential to thank staff for their work. I think that even though the pictures seem to show festive events.
"I think that efforts, even in those pictures, are being made to do social distancing. And what I saw, what I had in my head when I was talking to the House of Commons was a memory, a strong memory of people over a long period doing everything they could to stop the spread of disease within the building."