Ferne McCann publicly apologises for Sam Faiers voice note scandal in tearful appearance on ITV's This Morning
Former The Only Way Is Essex star Ferne McCann has publicly apologised for a series of voice notes that were leaked last year.
Watch more of our videos on Shots! 
and live on Freeview channel 276
Visit Shots! now
Ferne McCann has publicly apologised for the voice note scandal she was embroiled in late last year. The former The Only Way Is Essex star broke down during the apology, which was made on This Morning on Wednesday, March 15.
Ferne, who is currently pregnant with her second child, joined Holly Willoughby and Phillip Schofield on the This Morning couch to talk about the return of her reality programme, First Time Mum, which will air on ITV2 tonight. The TV personality opened up about how she faced dark moments whilst filming for the 10th series as a series of voice notes she allegedly sent were leaked via an anonymous Instagram account.
This Morning viewers were shown a clip from tonight's episode of First Time Mum where Ferne can be seen crying as she speaks to her former TOWIE cast member and friend James Argent after the voice notes were leaked. Ferne then became emotional after watching the clip, and presenter Phil handed her a tissue to dry her tears.
She then opened up to the presenters about that time in her life. Ferne said: "It definitely wasn't my finest hour and it definitely was a very difficult time in my life, but I do, I need to take this opportunity to publicly apologise again to those affected, obviously, the words I used were unpleasant and I have reached out privately to those people and it's very difficult."
Ferne then went on to add that a criminal investigation into the incident is taking place, meaning she's unable to talk about the extent of the scandal. She said: "I would love to sit here with you guys and share exactly what went on, but it's now part of a criminal investigation so I can't do that, but what I can say is these voice notes were from a time when I was in a very vulnerable situation and I have since then have done a lot of work on myself, I've been in therapy for six years and I feel like I am a different person."
The reality star then went on to talk about how the incident was captured on First Time Mum. She said: "When you find yourself in the eye of the storm it affects my family, my agent - everyone around me - and I felt hugely responsible, I was hurting, I hit some of my lowest moments, and, yeah of course you still have to get up and do the school run, and it was tough.
"I just feel grateful to the show, First Time Mum has been a lifeline for me."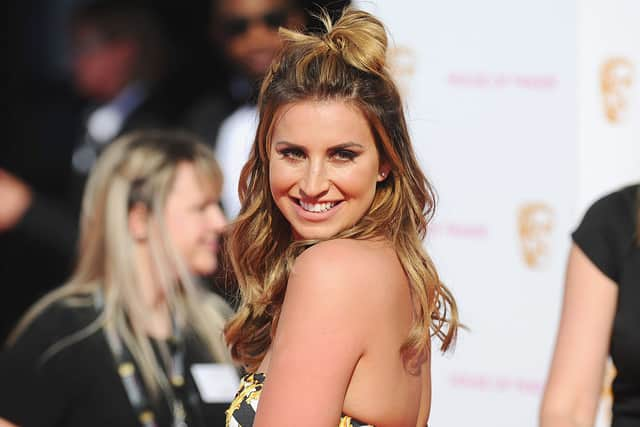 Towards the end of last year, an anonymous Instagram account began posting leaked voice notes allegedly from Ferne talking about her former TV co-stars and in one recording, a voice could be heard calling Sam Faiers a 'fat c***'.
More recordings were then released as the voice notes went viral, with one allegedly calling Sam a 'narcissistic b***h' and another allegedly taking aim at Sam's sister Billie over the name of her son being the same as Ferne's ex-partner Arthur. In another voice note, the voice spoke about Sophie Hall, who was scarred for life during an acid attack carried out by McCann's ex-boyfriend Arthur Collins at a London nightclub in 2017.
The voice branded the victim  a "silly b***h" and "ugly" for wearing a papier-mache dress for a beauty pageant.
Shortly after the voice notes were leaked, Ferne released a statement on her Instagram page, saying: "I am aware that people will have a number of questions about the voice messages being put into the public domain and purportedly sent by me. I feel I have no choice but to address these (to the extent that I can as there are restrictions on me which I explain below).
"Most importantly I want to apologise to all the victims of Arthur Collins's abhorrent actions in 2017 that they have to relive that night and the pain that followed because this matter is again in the public domain. In particular, I want to apologise to Sophie Hall. I do not believe her to be ugly or stupid. She has been brave beyond belief."
She continued: "Arthur Collins' crimes created genuine victims so I am not trying to portray myself as one. I am unable to say much because there are important and significant legal proceedings that prevent me from setting the record straight at this stage.
"What I can say is that the voice messages that are being released are manipulated; edited and taken entirely out of context.Even so, I will have said things that are untrue and I did not believe – but I did so to protect my family and myself from serious harm and in the face of significant threats."