Meet the 24 year-old making £50k a year from his bedroom - by playing FIFA on his Playstation
A 24-year-old man says he is living every young lad's dream after earning up to £50,000 a year by playing FIFA in his bedroom for eight hours a day.
Watch more of our videos on Shots! 
and live on Freeview channel 276
Visit Shots! now
Alex Shaw, 24, from Quarndon, Derby, first became hooked on the FIFA video game when he bought FIFA 12 for his Playstation 2 at the age of 13. After playing the EA Sports game for hours on end and thrashing his friends after school, he began to challenge professional players online.
When he started to beat the pros on the virtual pitch, Alex was invited to compete in an online football tournament in 2018. The die-hard Liverpool fan became an official FIFA eSports player that season and has made a staggering £150,000 in the last five years playing online footy.
Alex has travelled around the world, facing the best players on the planet, across America and Europe, representing Leicester City, Fulham and Watford. Every day, Alex spends up to eight hours playing FIFA on his PlayStation 5 in his bedroom on his £5,000 monitor and controller setup.
Alex said: "I think if my 13 or 14-year-old self could see what I do now and what I had achieved they would be amazed. It is definitely something I know I will look back on when I'm older and be proud of and young lads are definitely jealous of what I do for a living.
"When I first bought FIFA and played with my friends, I wasn't very good at all, but over the years and hours of practice I started to get better and began to beat professional players. I have played against some of the best players in the world and this is where you really learn how to get better at the game.
"I sadly didn't get placed in my first tournament in the 2018/19 season but since then have entered lots of other competitions and done quite well and won some good prize money. I have also been able to travel the world in my job which I love."
Alex has been able to travel to Atlanta, Hamburg, Milan, Canada, and Bucharest to take part in competitions. When he isn't travelling, Alex takes part in online tournaments from his bedroom playing against other professionals one-on-one, which can last up to two days.
In 2019, Alex placed eighth in the world at the FIFA Ultimate Team (FUT) Champions Cup Three in Bucharest. The following year placed fourth in the ePremiere League representing Leicester City.
Alex, who lives with his mum Sarah, 57, added: "My parents have always been very supportive of my career even when I wasn't earning anything. I think at the start they were in a bit of disbelief when they found out I was becoming a professional FIFA player.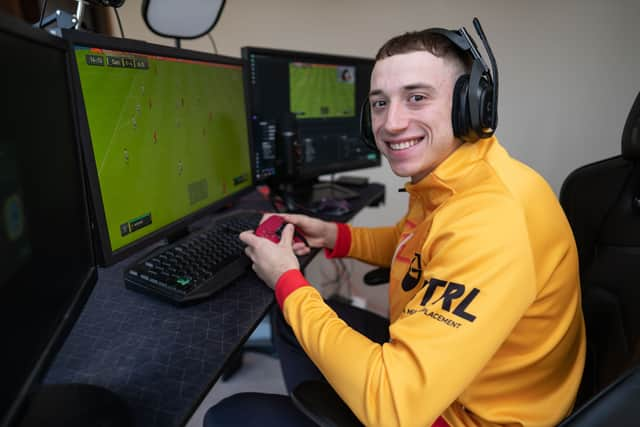 "But, I think when I started to fly around the globe and get put up in fancy hotels for free with my flights paid for, they definitely got on board. My dream goal is to win a tournament, but this is a very big ambition as some of the players are amazing and undefeated."