The 5 forgotten shops Brits miss most on UK high streets including Woolworths, BHS, Toys R Us and Blockbuster
New research has found which retailers Brits miss seeing most on our highstreets
Watch more of our videos on Shots! 
and live on Freeview channel 276
Visit Shots! now
If you're someone who loves a bit of retail therapy on payday, you might have noticed the changing landscape over the past decade when it comes to major shopping brands. Whether it's a fond memory of heading into Topshop to pick up an outfit for a night on the town, or you just loved popping into Woolworths for their pick and mix, you are not alone in missing the UK's classic high street brands that have closed their doors for good.
New research has found which high street retailers are missed the most by shoppers in the UK. And although we may not give it much thought at the time of closure, high street brands often hold a place in our hearts with childhood memories or first jobs.
Raisin UK has carried out research to find out which stores are missed most on British high streets. Using search volume data and social media engagement the pros have found out which brands shoppers want back on the high street.
Top 5 most missed UK high street shops
Toys "R" Us – closed in 2018
Out of 149.7k posts analysed online, 78% of people reacted with love to the toy brand, showing that this huge retailer that was part of many childhoods across the country continues to have deep-rooted sentiments for many of us. In 2018, it was announced that Toys "R" Us UK would be closing all of their 100 stores across the country after failing to find a new owner after their US parent company filed for bankruptcy.
However, in 2022, it was announced that the toystore would be reopening in the UK, online and WHSmith stores across the country. The Toys "R" Us and Babies "R" Us UK website relaunched before Christmas 2022, with retailer WHSmith expected to launch a 'small scale trial' of Toys "R" Us areas in nine of its high street stores at the beginning of 2023.
Woolworths – closed in 2009
Woolworths was a well-established store on British high streets since 1909. It was the place to go for just about anything, from toys, electricals, CDs and not to forget the famous pick and mix.
Shoppers were left shocked as the shutters closed on the chain's final 199 shopfronts in market towns across the UK in 2009, a significant piece of high street history faded away.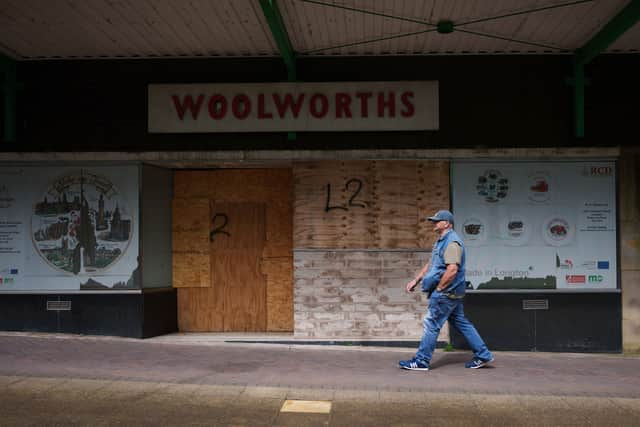 Mothercare – closed in 2020
Mothercare was a huge retailer for parents across the UK, with it being part of many people's lives at such an important time. Therefore, it will come as no surprise that 55% of people engaged with a sad reaction to the brand's collapse announcement on social media.
In November 2019, Mothercare announced it was to close its UK business after calling in administrators. The company, which opened its first store in 1961, had frequently struggled to compete with cheap supermarket clothing ranges and the rise of online shopping.
Blockbuster – closed in 2013
Blockbuster collapsed into administration back in 2013 resulting in the closure of 528 highstreet stores! It joined several other brands, including Jessops and electrical chain Comet, in being affected by online competition.
Blockbuster was known for being a place to go to rent a bunch of movies for a sleepover with your friends. You could spend hours walking up and down the aisles, reading the back of every case trying to pick a selection to rent with your blue Blockbuster card.
BHS (British Home Stores) – closed in 2016
British Home Stores, commonly known as BHS, was one of the largest department store chains (similar to Debenhams), selling clothing and household items. In its later years, BHS expanded into furniture, electronics, entertainment, beauty and even convenience groceries.
BHS was part of the Arcadia Group, managed by Sir Philip Green who later sold BHS for £1 in March 2015 to Retail Acquisitions Ltd. All BHS stores closed by late August 2016, the biggest retail collapse after Woolworths.
Despite not being known for anything outstanding, it was a huge part of the British high street and was hugely missed as many of the city centre's largest retail units were left empty.