UK set for 'astronomical rise' in Asian hornet population - how to spot them
Britain could be facing a record invasion of killer Asian hornets after an 'astronomical' rise in their population - but how can you identify a killer Asian hornet?
Watch more of our videos on Shots! 
and live on Freeview channel 276
Visit Shots! now
The rise of killer Asian hornets has been recorded on the Channel Island of Jersey. The battle there is seen as vital to stop the spread of the insects that could invade Britain and decimate the native bee population.
In 2022 on Jersey, 55 queens were caught and 174 nests discovered. This year, 438 queens were trapped - which could point to a mass rise in the number of nests.
Asian-hornet co-ordinator Alastair Christie said the numbers were ''an unprecedented, astronomical increase''. He said: '''Despite catching 438, we may find that there are as many, if not more, nests than last year. We just don't know at the moment.''
The species began to spread through Europe in 2004 after arriving in the south of France inside a freight ship. They were spotted in the British Isles on the Channel Island of Jersey in late 2016.
But after years of establishing themselves on Jersey and Guernsey the battleground shifted last year to Southern England. This led to calls for a "people's army" to help fight off an impending invasion of killer hornets onto mainland Britain. The hornets are able to kill with one sting among people who have an allergy while they also pose a threat to the environment and native species.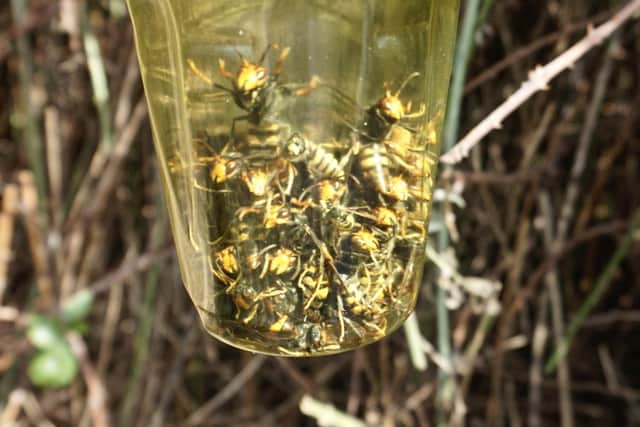 How to identify killer Asian hornets
The Asian hornet has distinctive yellow legs compared to other insects. It has a body that is a velvety brown or black while the abdomen is almost dark, except for the fourth abdominal segment which is dark yellow. The Asian hornet has a black head and yellow face.