Watch as lorry driver caught barely touching steering wheel while taking a picture with phone
Footage shows a brazen lorry driver being caught barely touching his steering wheel while using his mobile phone to take a picture
Watch more of our videos on Shots! 
and live on Freeview channel 276
Visit Shots! now
Footage has been released by police which shows a trucker taking his eyes off the road while driving in pouring rain on a motorway in South Yorkshire. It was taken by officers in an unmarked heavy goods vehicle tractor unit from National Highways to covertly record the vehicles from a greater height.
The shocking videos reveal how some motorists risked the lives of fellow road users by taking their eyes off the motorway in favour of their mobile devices. In other clips, motorists in saloon and hatchback vehicles can be seen driving with one hand on the wheel as their attention is diverted to their phone.
South Yorkshire Police stopped 185 drivers in total during a four-day operation - from March 6 to 10 this year - as part of a bid toidentify selfish and careless driving behaviour. Officers slammed "selfish" drivers using their phones as they speed along motorways.
The force said 179 of those stopped were Light Goods Vehicles (LGVs), with 41 drivers found to be using their mobile phones while driving. They added that 15 were not in proper control of their vehicle while 73 weren't wearing a seatbelt and ten were driving without due care and attention.
Roads policing acting sergeant Rodney McEnery said some drivers needed to change their behaviour or they could end up killing other innocent motorists. He said: "If it makes one driver change their behaviour and think twice, then it's worth it, as all these offences can and do cost lives. Innocent people die.
"People are always quick to comment how we want to issue tickets and generate income, but it couldn't be further from the truth. We want safe roads. As police officers we are sadly familiar with seeing death and fatalities on our roads and delivering the news to a family that their loved one has died never gets any easier.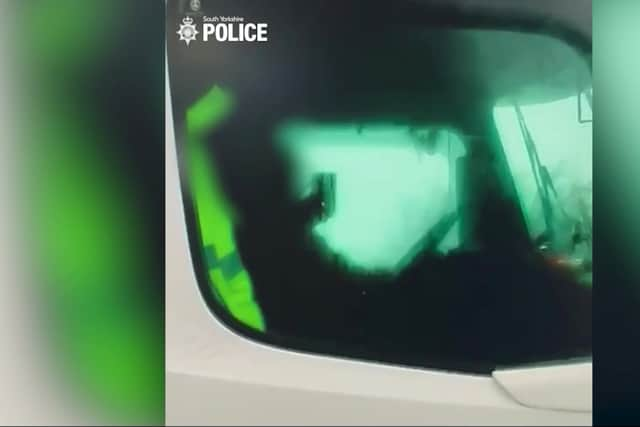 "I urge drivers to think about how they would feel if they killed someone, as ultimately this is what can happen without your full attention being on the road. Everyone can take simple steps to reduce risk to other drivers; put your phone away, put your seatbelt on, don't speed and ensure you're following the laws surrounding your vehicle's use."