All eyes on Caley Locos as club agrees new sponsorship deal
Caledonian Locomotives has kicked off a new deal for Optical Express to become the club's main home shirt sponsor this season.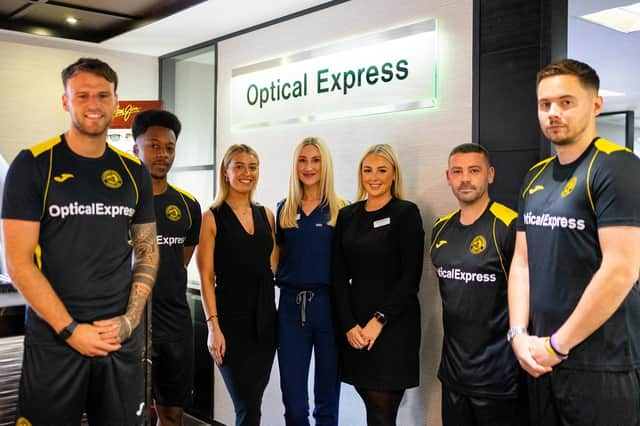 Optical Express regularly supports local charities and community projects, and over the last 30+ years has donated over £33 million to worthwhile causes. It most recently relaunched its 'Thanks a Million' campaign to provide £1 million of free laser eye surgery to NHS and emergency service workers.
David Moulsdale, chairman and CEO of Optical Express, said "The Caledonian Locomotives are on track for a great season, and have our full backing for the year ahead.
"Hopefully the sponsorship deal provides a good platform for the club, and they don't take their eye off the ball as they try to push up the table.
"The club is deeply involved in the local community, and so is perfectly aligned with our vision as a business that makes a difference and supports community programmes."
Following a rebranding over the summer Caley has enjoyed a bright start to life in the WoS Second Division with three wins out of four.
Club captain Jason Elliott said: "It's been all change this summer, now we have our new sponsor in place we're excited for the new season and grateful for their support.
"We've recruited a lot of good players, a bit more experience was needed from last season, and the team has been gelling really well so we are very confident.
"I'd say we have the best manager and coaches in the league, so if we keep working hard and training the way we are then we should have a really good season."
Caley made it three wins a row on Saturday as they beat Wishaw 7-2 at home with Connor McAteer helping himself to four goals and Tyler Wright claiming a hat-trick.
It is the first of three weeks on the road for Caley on Saturday as they face St Anthony's.
In the same division Glasgow Perthshire drew 4-4 as they hosted Maryhill, coming back from 4-1 down with a brace from William McGowan as Andrew McGlip and Craig Munro also found the net.
Shire travel to Kilsyth Rangers in the league tonight (Wednesday) and then host BSC Glasgow in round one of the South Region Challenge Cup on Saturday.