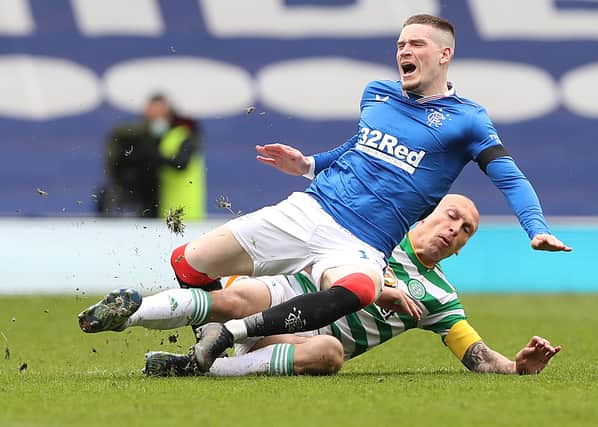 Research carried out by BonusCodeBets on which derbies are the most competitive over the last 10 years has outlined the two Glasgow clubs comprise one of the fiercest rivalries in Europe.
The Old Firm averages the most red cards (0.33) per game in their 24 league meetings since 2013. Matches between Rangers and Celtic has also produced the fourth-most yellow cards in Europe. It has been proven that players are unable to keep their cool in Scotland, accumulating the second most double yellow cards leading to a red (4 second yellow cards) in Europe, which is the half of their total 8 red cards since 2013.
However, if Scottish football wants to pride itself as having the dirtiest rivalry in Europe, they have some catching up to do with French giants PSG vs Marseille, which averages the highest red card per game ratio with 0.6 (at least one red card every two games)
The Derby Della Capitale contested by Lazio vs Roma is also renowned for it's violent tension in and out of the Stadio Olimpico, while the El Clásico between Barcelona vs Real Madrid remains one of the fiercest games in history.
Former Celtic captain Scott Brown and Spanish legend Sergio Ramos share top spot for receiving most of the bookings in each fixture.
Here is the data in full:
| | | | | | | | |
| --- | --- | --- | --- | --- | --- | --- | --- |
| Teams | Yellow Cards | Second Yellow Cards | Red Cards | Total Red Cards | Games | Yellow Cards per game | Red Cards per game |
| PSG vs Marseille | 95 | 4 | 8 | 12 | 20 | 4.75 | 0.60 |
| Lazio vs Roma | 135 | 6 | 4 | 10 | 21 | 6.43 | 0.48 |
| Barcelona vs Real Madrid | 124 | 2 | 6 | 8 | 21 | 5.90 | 0.38 |
| RANGERS vs CELTIC | 115 | 4 | 4 | 8 | 24 | 4.79 | 0.33 |
| Arsenal vs Tottenham | 102 | 4 | 3 | 7 | 21 | 4.86 | 0.33 |
| Cardiff vs Swansea | 34 | 1 | 2 | 3 | 9 | 3.78 | 0.33 |
| Arsenal vs Chelsea | 84 | 1 | 5 | 6 | 21 | 4.00 | 0.29 |
| Newcastle vs Sunderland | 37 | 0 | 2 | 2 | 8 | 4.63 | 0.25 |
| Sheff United vs Sheff Wednesday | 10 | 1 | 0 | 1 | 4 | 2.50 | 0.25 |
| Crystal Palace vs Brighton | 48 | 0 | 3 | 3 | 13 | 3.69 | 0.23 |
| Forest vs Leicester | 18 | 0 | 1 | 1 | 5 | 3.60 | 0.20 |
| AC Milan vs Inter Milan | 116 | 1 | 3 | 4 | 21 | 5.52 | 0.19 |
| Man United vs Liverpool | 78 | 1 | 3 | 4 | 21 | 3.71 | 0.19 |
| Aston Villa vs Birmingham City | 27 | 1 | 0 | 1 | 6 | 4.50 | 0.17 |
| Tottenham vs Chelsea | 93 | 1 | 2 | 3 | 21 | 4.43 | 0.14 |
| Bayern vs Dortmund | 80 | 2 | 1 | 3 | 21 | 3.81 | 0.14 |
| Fulham vs Chelsea | 22 | 0 | 1 | 1 | 8 | 2.75 | 0.13 |
| Everton vs Liverpool | 89 | 0 | 2 | 2 | 21 | 4.24 | 0.10 |
| Man City vs Man United | 88 | 1 | 1 | 2 | 21 | 4.19 | 0.10 |
| Brentford vs Fulham | 34 | 1 | 0 | 1 | 11 | 3.09 | 0.09 |
| West Brom vs Wolves | 5 | 0 | 0 | 0 | 2 | 2.50 | 0.00 |
A spokesperson for BonusCodeBets said: "The Old Firm is the fiercest derby in the UK and one of the most competitive rivalries in Europe, and it will be as competitive as ever now there is a trophy on the line."