Clyde Player of the Year Ray Grant: Anyone could have won it
Ray Grant has been named the Clyde website Player of the Year for 2019-20 - the second year running he has won the award.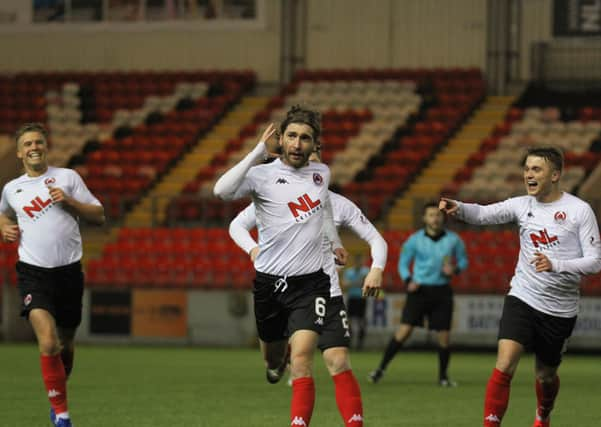 It's a measure of the defensive midfielder's importance to Danny Lennon's side that he came out top ahead again, edging out keeper David Mitchell, defender Craig Howie and striker David Goodwillie when the season's Man of the Match points were totted up.
Not that the modest 23-year-old is likely to shout from the rooftops about it.
"It could have been a few of the boys," he told the Cumbernauld News. "Goodie's record speaks for itself and in my opinion, and I'm not just saying this because I play with him, he is the best player outside the Premier League.
"David Mitchell's also been excellent but I think all the boys have been really good with a lot of outstanding performances.
"It's always nice to get a personal award but it really could have been anyone."
Like the rest of his team-mates Grant is now in limbo, and on furlough, as the club and the sport in general face an uncertain future.
With no indication of when football can return from its coronavirus-induced hibernation, clubs like Clyde are simply not yet in a position to offer deals for the players they want to keep.
There are some at Clyde on extended deals which will carry into next season.
Grant isn't one of them, but with more important health issues on everyone's minds he's content for now to keep himself as fit as he can and await further developments.
He said: "There are a lot of people in a lot more difficult circumstances than me so I can't really complain too much.
"Until clubs know what's happening you can't be told anything but it's not something I'm sitting being particularly concerned about. I'm more concerned about when's the season going to start and get back rolling.
"You're hoping that next season isn't delayed and you can kick off around August time."
The season just finished was Clyde's first outside the bottom tier in 10 years and Grant was reasonably happy with how it went, albeit he would have liked more consistency on what was a steep learning curve.
Early in the campaign Clyde went to play eventual champions Raith and were soundly, and deservedly, beaten. They lost again on their return to Kirkcaldy in one of their final games before the shutdown, but narrowly this time and left Fife convinced they should have not just drawn but won.
Clyde also beat title contenders Falkirk three times, were unbeaten against East Fife and enjoyed a fine win over Airdrie. But they were also one of only two teams to lose to bottom side Stranraer.
Grant admitted: "It's just consistency. There were some good performances in some games and not so good in certain games
"But it's progression from where the club's been.
"Do I think we should be able to kick on and should we look to kick on? Absolutely, I don't see why not.
"It's a building block and we just need to try to progress on that whenever the football starts back."