Clyde star Ally Love admits he turned down other offers to stay at Broadwood
Clyde promotion hero Ally Love has admitted that he turned down other offers so that he could sign a new deal with the Bully Wee.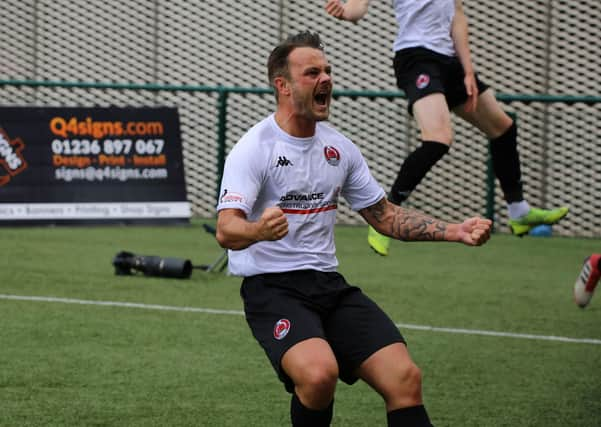 The man whose penalty against Annan two seasons ago sent the club up to League 1 is raring to go after last week's Government green light to resume training.
And he's desperate to get back to playing at Broadwood in front of the fans he says are the heartbeat of the club.
Clyde's players are due to start pre-season training next Tuesday - and that can't come quickly enough for the 29-year-old forward.
He said: "A lot of the boys are frustrated and eager to get going. It just feels so, so long but we're starting to see light at the end of the tunnel. Hopefully it won't be long until we get on that park again, winning games of football with fans back in the stadium.
"I just hope for the good of Scottish football, for the good of Clyde, that the season goes ahead shortly with fans. For me the game is knackered without fans .
"I had an experience a few years back when a game got delayed up at Brechin and I think there were only three people there! The fans in the lower leagues are massive, they're the heartbeat of every club, especially in this league with Partick Thistle, Falkirk and Airdrie.
"We've got some big, big games in this league and for me the fans need to be there."
The fans played a big part in Love's decision to sign on for another year at the club he joined in 2018.
And while a number of key players have departed - Ray Grant and Chris McStay have moved on while John Rankin has retired - Love is confident of another successful campaign under Danny Lennon and Allan Moore.
He said: "I'm not going to lie, I had quite a few offers from elsewhere across the divisions.
"But Clyde are just perfect for me at this time - I love the club and love what the gaffer and Moorie are trying to achieve and the fans are fantastic as well."
With some squad changes and a curtailed three-quarter length season, Love knows it's even more important than usual for Clyde to integrate the new faces quickly and get off to a good start.
He said: "It's going to be so strange for everyone because you're straight back into it and it's such a short season.
"We've lost three or four major parts of our team but again I believe and the players believe what the gaffer's trying to achieve and we'll be fine.
"I'm sure we'll hit the ground running. The gaffer and Moorie's pre-seasons are very tough and last year we were a fit team.
"We've still got the nucleus of the squad there and I'm sure he will add the right pieces around it.
"All we can do is keep ourselves ticking over. At the end of the day you need specific training, you need games. For me that's the biggest thing.
"You can go out and do all your 5Ks and your circuits, but it's the games, training and sharpness that you need. But that will come.
"The frustrating thing for me is I'm trying to watch what I'm doing, like the other boys, and we're just so eager to get on that park.
"I'm not telling folk how to do their job but you're starting to see restaurants and pubs opening with 100 or 200 people in them, yet we can't go on a football park and have somebody watching us from the stands. It's just crazy in my eyes."