Greg Docherty would love Rangers return but focus for now on Hull City challenge
Greg Docherty will kick off the next stage of his career on Saturday when new club Hull City travel to Sunderland in the EFL Cup.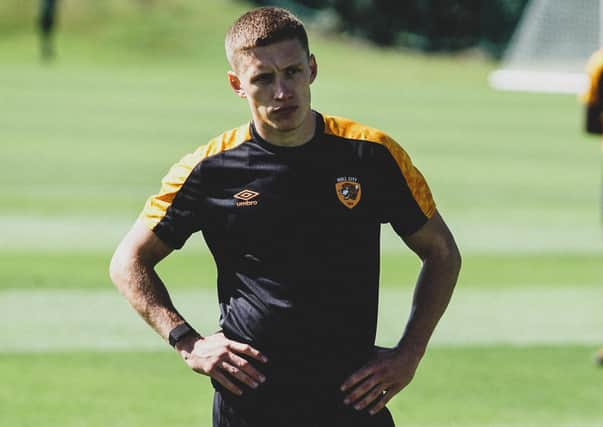 The 23-year-old midfielder, from Milngavie, has signed a three-year deal with the Tigers after calling time on his spell with Rangers.
Docherty is determined to help revive the fortunes of a club relegated from the Championship last season, just two years after dropping out of the Premiership.
And while his time at Ibrox didn't work out as he had hoped, he hasn't closed the door on a return to his boyhood idols at some stage to conclude what he feels is unfinished business.
Docherty made his dream move to Ibrox from Hamilton in January 2018 and was a regular for the rest of the campaign.
But he found opportunities limited after Steven Gerrard took over that summer. And after successful loan spells at Shrewsbury Town and Hibernian, he felt the time was right to make a clean break.
He said: "I think anyone you ask in and around the club, they knew that, even in training every single day I gave my all.
"I don't think it was the case that I wasn't good enough, it was just that my style of play maybe wasn't suited to the manager who's currently there at the moment. And that's fine, that's football and it happens all the time.
"It was obviously more difficult because when I got the move to the club it was one I had wanted my whole life.
"When you're getting paid to play football and you're not playing you can feel a bit helpless and hopeless and I just wanted to get in control again.
"My first start for Rangers at Ibrox against Hearts was a really special day. But it's something that is going to hang over me for a while, the fact that I went there and it didn't work out the way I wanted it to.
"That doesn't sit well with me."
Docherty continued: "It can happen at any club and I've just got to take that I wasn't suited to the style of play.
"I can take that on the chin and I'm at the age where I can go and prove myself.
"Hopefully I don't close the door and I left on good terms and I've done myself and reputation alright. It's not as if I spat the dummy for not playing and I'm hoping that door's not closed. In the future you never know.
"It was a special moment but I'm not happy with only making 20-odd appearances. I'm really disappointed with that but sometimes it's outwith my control and I had to just go and cut ties for the moment, start afresh and really focus on Hull City."
Docherty pointed to the likes of former team-mates Steven Davis and Allan McGregor - who also had a spell as a Hull player and played for them in an FA Cup Final - as players who left Rangers only to return in later years to great effect.
And Davis was also a useful reference point when Greg was weighing up his options, as a former Northern Ireland team-mate of Hull boss Grant McCann.
He said: "I spoke to Steven Davis a lot because he's close to the manager here and to Allan McGregor a few times, although he was in a completely different situation when he was here. But that's where the club wants to get to again, that's the ambition.
"A massive part of it was the manager, the way he spoke to me when he first got in contact with me.
"I'd been aware of their interest for a while, right before lockdown. I never knew my situation anyway so that was an attraction, that I knew he really wanted me."
Hull's League One campaign starts on September 12 and having now effectively had two pre-seasons - one with Rangers and one with Hull - Docherty is fit and raring to go. And excited at the prospect.
"The size of the club as well, they're in a position they really shouldn't be in. It's an attractive prospect to come and help build it back up again and for me just to go and play games again and try and get back to my best."