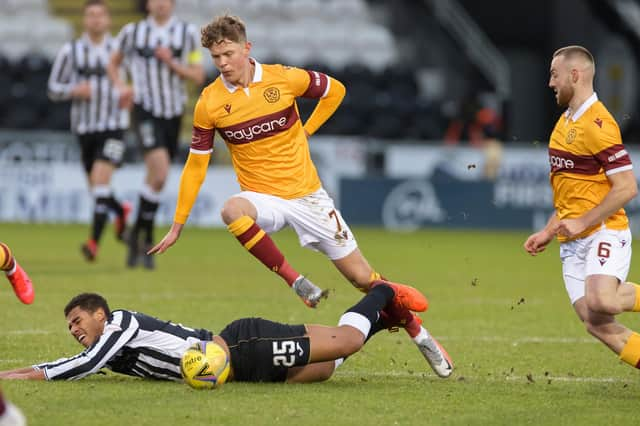 Mark O'Hara in action during Motherwell's 1-1 draw at St Mirren on January 9 (Pic by Ian McFadyen)
Motherwell have lost all three derbies to Hamilton so far this season (0-1, 0-3 and 1-4), so 'Well stars like utility man Mark O'Hara are highly motivated to avoid another defeat this time.
O'Hara, 25, whose ninth placed side would surely guarantee safety with a win, said: "I think it's massive. The two years I've been here we've not done well against them.
"Circumstances have obviously led to that during the games. There's been sending offs, it's been fiery.
"It's disappointing for us ourselves as it feels we're letting the fans down a bit. So hopefully we can rectify that.
"I can't quite put my finger on it but we have a chance to put it right on Wednesday night and if we could finish off the last derby of the season with a win that would be good to look back on.
"Obviously the win the other night against Morton has given the boys a boost going into the game. I think it was disappointing, some of the play we had, but the main objective was to go through and we're in the last eight of the Scottish Cup (they travel to Hibs in the quarter-finl this Saturday).
"So we definitely need to take the positives from that and hopefully we can build on it.
"Since the split we've targeted to win all the games so we need to look up. Obviously an objective is to be safe mathematically but we're just taking each game as it comes and targeting another win.
"These games are probably the most important that the fans look for in the season so it's massive. We feel as if we owe the fans one.
"As a football fan in general myself, I think a derby loss hurts. It hurts the players as much as it hurts the fans and it's not been good enough previously.
"We've got a chance on Wednesday to finish it off in the right way.
"What we don't want is the feeling we had after the last couple of times playing against Hamilton. That was low points in the season and we wouldn't like to go back there.
"The last time the manager felt we got caught too much in the derby feeling so we'll stick to our game plan and see where that takes us."
O'Hara is back involved again having suffered concussion during a 1-1 draw at St Mirren in January, new manger Graham Alexander's first game in charge.
The former Peterborough United player added: "It's been a frustrating couple of months. I tried coming back too soon after the manager's first game and it set me back.
"I've been having problems ever since but the last week or so I've been feeling good again so hopefully that's behind me and I can really focus on my football now.
"I was in regular contact with the doctors and the physio. Maybe in the olden days they would have been shoving me to play through it and you don't know what would have happened with the damage that could have done so I'm grateful for that."
Motherwell suffered earlier in the season from inconsistency in the goalkeeper position, but current number one Liam Kelly has been an excellent addition since arriving on loan from QPR in January.
O'Hara said: "Liam's been brilliant. Obviously since Liam's come in I've actually watched a lot rather than being a part of it being out and it's a joy to watch him at times.
"I think his distribution's brilliant and it's a real confidence boost when you have that quality of goalie behind you."