How it happened: Clyde 2 East Fife 1
Clyde faced a crunch clash at Broadwood on Thursday night against East Fife in the final fixture of the regular League 1 season.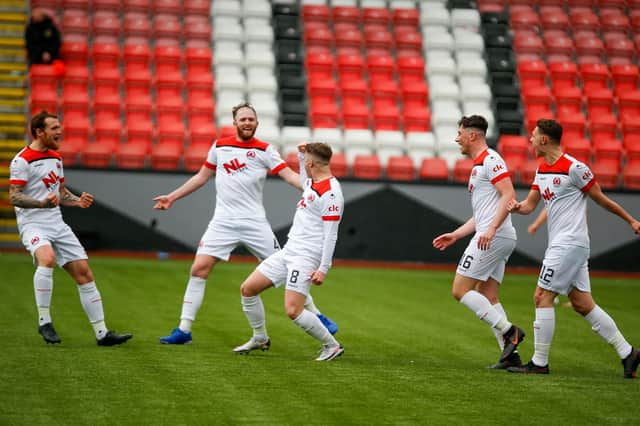 The Bully Wee went into the game in second bottom spot, two points behind Dumbarton who had played all their games.
Only a win would be enough for Danny Lennon's side to avoid a perilous relegation play-off. Draw or lose and it's off to Stranraer on Saturday for the semi-final first leg.
How it happened: Clyde v East Fife from Broadwood
Show new updates
Previously . . . on Clyde v East Fife
It's only just over a week since East Fife were last at Broadwood . . . for the game that never was with the visitors refusing to play because a Clyde player has returned a positive Covid-19 test.
East Fife were subsequently fined £11,000 - with £10,000 suspended - and the game rescheduled for tonight.
It's the third meeting between the sides and East Fife have won the previous two, 3-1 at Broadwood in March and 1-0 at Bayview in April.
Clyde's last win over East Fife was in January 2020, David Goodwillie and Tom Lang on target in a 2-1 victory.
Danny Lennon's first game as Clyde manager was against East Fife - a Scottish Cup tie in 2017 which the Fifers won 2-0.
East Fife have other good memories of Broadwood. They clinched the League 2 title there with a goalless draw in April 2016.
Tom Lang celebrates after scoring the winner for Clyde against East Fife in 2020
Lennon: We know how much this means - we will give everything
Clyde boss Danny Lennon says he and his players know just how much victory tonight will mean to the Bully Wee fans
"I wish I could put every single supporter in a Clyde jersey for this match, because the passion that they have for this club oozes out of them and that is such a great thing to have in both football and life in general.
"We know what this means to them and, together, we will go out to try and achieve what we have set out to do. We will give everything."
Danny Lennon's first game in charge of Clyde was against East Fife in 2017
Team news
Two changes for Clyde from Saturday's win over Dumbarton.
David Mitchell returns in goal instead of youngster David Wilson and Ewan Otoo takes the place of Craig Howie who suffered a fractured cheekbone against the Sons.
The East Fife line-up includes a familiar face around Broadwood in former Cumbernauld Colts striker Sean Brown, on loan to the Fifers from East Stirlingshire.
CLYDE: Mitchell, Bain, Otoo, McNiff, Rumsby, Cuddihy, Robertson, Lamont, Goodwillie, Cunningham, Love.
SUBS: Wilson, McGlinchey, Jack, Munro, Jamieson, Thomson, Butterworth, Ritchie-Hosler.
EAST FIFE: Hart, Steele, Dunlop, Watson, Dunsmore, Fenton, Davidson, Agnew, Spence, Brown, Watt.
SUBS: Dow, Allan, Newton, McKinnon, Healy, Denholm, MacKenzie
Game on
We're under way at Broadwood
3: Clyde close
Clyde have made a bright start here. Couple of early forays and a mazy run into the box by Ewan Otoo which ended with Hart saving low at his right-hand post
8: Over the top
Ross Cunningham tries his luck for Clyde with a free-kick from 30 yards but his curling effort, well struck, is too high
12: Clyde chance
Great opportunity for Cunningham, unmarked 12 yards out after being played in by Ally Love, but he gets underneath his shot and it sails over
14: All Clyde
One-way traffic at Broadwood as Martin McNiff is unable to get a decent connnection from a corner from the left. But it's still goalless