Craig Brown: Motherwell 6-6 Hibernian exactly a decade ago was freak encounter!
Craig Brown is still mystified by the glut of goals in Motherwell's unbelievable 6-6 home draw against Hibernian, ten years on.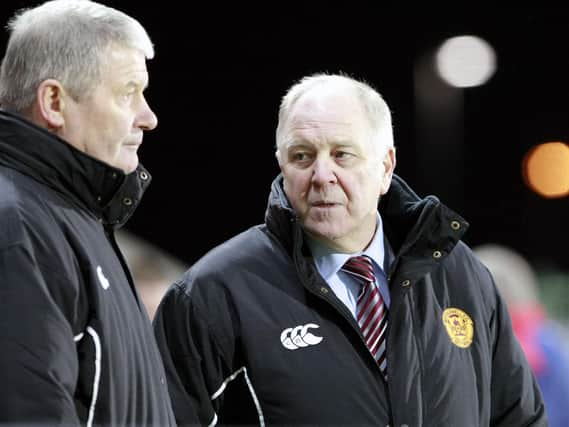 Then 'Well gaffer Brown (79) watched his team defend pitifully to fall 6-2 behind after 67 minutes of the live Sky TV league clash, before launching an incredible fightback in the latter stages. That included Ross Forbes having a penalty saved at 5-6 – and 'Well snatching an injury time point with Lucas Jutkiewicz's ferocious left foot volley after a long ball by John Sutton.
"The 'in-word' just now is unprecedented in a negative way, in relation to coronavirus," ex-Scotland boss Brown told the Times and Speaker.
"Well I think that game was unprecedented as well, but in a positive way.
"It was probably the most exciting game many people have been at.
"It was a freak game and a freak result but a great game for the spectators.
"We can't be proud of our defending, that's for sure.
"We didn't defend particularly well so it made for good entertainment.
"I couldn't believe we were 6-2 down.
"Every time Hibs shot for goal they scored. I think they had seven goal attempts and they scored with six of them.
"Earlier that season we'd have an unbeaten run of 12 and we'd lost only three goals in 12 games!
"Yet in the last two games of the season we lost nine goals, because we lost six to Hibs and then three to Rangers (a 3-3 draw at Ibrox in the final game of the campaign).
"When I was Scotland manager we played 10 qualifying games for Euro '96 and we lost three goals.
"We then played 10 qualifying games for the World Cup in 1998 and again we only conceded three goals.
"So only six goals we lost in 20 qualifiers which were hard internationals.
"Yet in that Hibs game we lost six goals in 67 minutes!"
The crazy night of action at Fir Park on Wednesday, May 5, 2010 saw Hibs leading 4-2 at half-time on a ploughed field of a pitch thanks to a Colin Nish hat-trick and Derek Riordan's goal after a poor Giles Coke backpass, with 'Well countering through goals by Coke and Sutton.
The Edinburgh side stormed 6-2 up after the interval with an Anthony Stokes brace, before Coke, Tom Hateley with a free-kick, Sutton's headed second and Jutciewicz's cracker ended the scoring and sickened Hibs gaffer John Hughes and his assistant Brian Rice.
"Jutciewicz was only 21 at the time," Brown said. "He outmuscled Paul Hanlon and was too strong and quick for Hanlon, who's a good defender.
"Jutkiewicz went through and he hammered it very well. It was just like Van Basten (legendary Dutch striker Marco Van Basten).
"John Hughes and I were dumbstruck at the end!
"I managed over 1000 games in my career and you can't account for what happened that night.
"The press guys asked me after the game: 'How do you explain it finishing 6-6?'
"I said: 'That was easy, I was coaching the attack and Archie Knox (assistant manager) was coaching the defence'!"
Scoring six in a top flight football match and still not winning is virtually unheard of, yet the Steelmen would have triumphed if Forbes's late spot kick had beaten Hibs keeper Graeme Smith.
Brown said: "Ross was a very good penalty taker but my mistake was, when a guy like John Sutton has scored two, you are on a high.
"The next time you shoot the goal's twice the size. So I should have instructed Sutton to take it.
"Jutkiewicz shouted for Forbes to take it because he was knackered and that was his logic I think. The ironic thing was that we were 3-2 down at Ibrox in the next game, we got a penalty and Jutkiewicz scored!"
Motherwell finished fifth that season to reach the Europa League, winning two ties before losing to Odense in the play-off round.
Motherwell: Ruddy, Hammell, Reynolds, Craigan, Saunders (Humphrey 69), Coke, Murphy (McGlinchey 69), O'Brien, Hateley (Forbes 80), Jutkiewicz, Sutton.
Hibs: Smith, Hogg, Murray, Thicot, Hanlon, Rankin, Wotherspoon, Miller, Nish, Riordan (McBride 70), Stokes (Benjelloun 88).