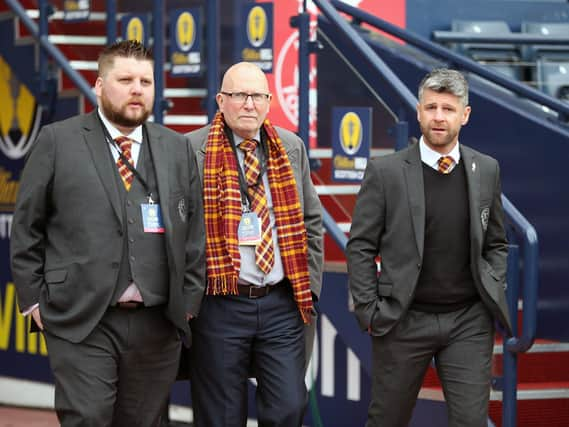 McMahon, whose side were third in the Premiership after 30 games when the action was halted over two months ago, joined 26 other senior clubs at Tuesday's virtual EGM in voting down Rangers' resolution to investigate the conduct of SPFL chief executive Neil Doncaster.
The 'Well supremo told the club website: "The key decision the SPFL board took was to propose a resolution to "call" the leagues other than the Premiership, and giving itself the power to do the latter in due course. Their rationale was twofold: It was extremely unlikely this season could be finished; In those circumstances the most important aspect was to protect, as far as possible, next season.
"As a club we felt that was the correct decision at the time and it has been confirmed over the past weeks. There are now no credible voices still arguing that the 2019/20 season can be completed.
"Did the evidence produced meet the high threshold required to merit an independent review of that decision and indeed an open-ended and unlimited enquiry into the whole corporate governance of the SPFL? In our view it did not.
"We also took into account two other factors in our decision not to support the resolution.
"Is this the appropriate time to divert resource into an investigation? In our view, it is not and we are surprised by the amount of effort and energy devoted to this topic at a time when Scottish football faces an existential crisis.
"Secondly, it is very likely that a large number of clubs will need significant help to get to the other side of this, which might in turn entail accessing money from external sources. The chance of getting that sort of funding is much reduced if we continue to fight in public. For that reason, can we not all come together as a group to try and get the best possible outcome?
"If in due course, when we are through this crisis, clubs feel that there should be a review of how the structure and operation of the SPFL could be improved, then we would support that and would be happy to be involved."
With UEFA having imposed a May 25 deadline for leagues around Europe to outline plans to finish the current campaign, Premiership clubs are likely to call the top tier in this coronavirus hit campaign based on current standings next week.
If so, Motherwell would be in the draw for the Europa League first qualifying round but - as that is usually played in July and no end to the current Covid-19 sabbatical is in sight - nobody can say with any certainty just now that it will go ahead as scheduled.