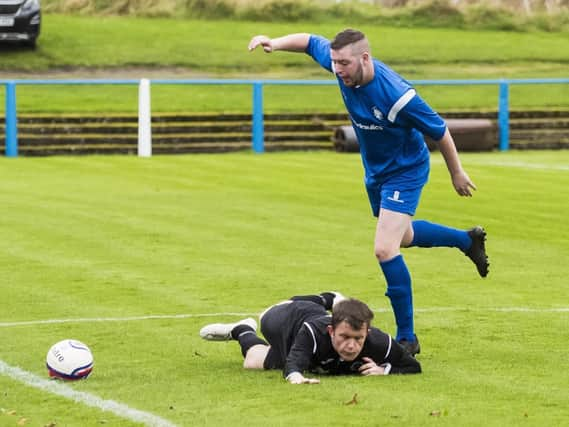 Committee man Craig Martin revealed that prolific strikers Hugh Kerr and Ian Watt, captain Cammy Lawson, goalkeeper Gareth Hallford and central midfielder Peter O'Donnell are among 15 who have already committed to Moor Park for the 2020-21 term, whenever that may start.
The most important man of the lot staying with The Yowes might just be right back Josh Gracie – formerly on the books of Falkirk, Dunipace and Stenhousemuir – who was lauded by Martin.
He said: "Josh, who is only 19, was the Young Player of the Year in his first season (2018-19). And he wouldn't have been a kick in the backside off being Player of the Year as well.
"He has a great attitude, just an out and out good player and a nice laddie to boot.
"Josh, who is from Forth, has been outstanding.
"His best attributes are pace and a natural ability to defend well.
"He played against us for Dunipace and he excelled. Joining us saved him a lot of travelling and it got us an excellent player."
Local lads Calum Anderson and Jack Hamilton are also among the players to sign on for Lanark United next term, with negotiations still continuing to retain key forward Lewis Hill.
With Lanark having joined every other West Region junior league club in quitting this set-up to join one of the new conferences at tier seven of the Scottish football pyramid (United are in Conference C), a fresh challenge awaits whenever matches return from the current Covid-19 induced sabbatical.
Martin said: "It seems a toughish league but you want to be playing the best anyway don't you?
"You wouldn't look at it and say there are any easy games.
"That's definitely what the manager – Colin Slater – is looking for, test yourself.
"You would like to think that we'll be pushing for promotion (only the league winner will go up)."