Motherwell official John Beaton: Referees' mental health can often be forgotten about
Referee John Beaton, of Motherwell, believes whistlers can often be forgotten about when football's mental health issues are discussed.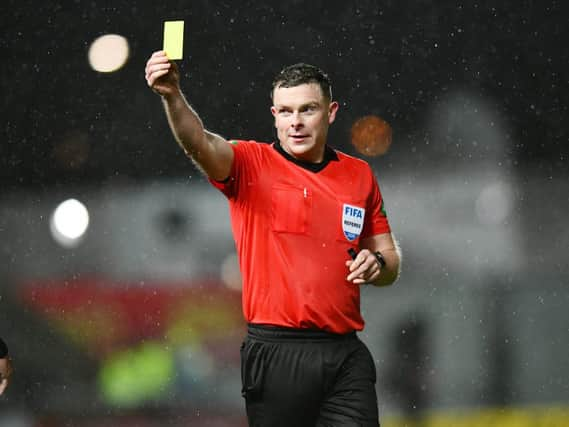 In part of the Scottish FA's recent series of question and answer interviews during lockdown, the 38-year-old said refs were no different to players or managers.
He said: "I've seen a few managers speaking about coping with pressure they are put under and the impact it has on them. Referees are exactly the same.
"When you start out in refereeing, it isn't easy, and the Scottish FA does an incredible job in retaining referees.
"They lose a lot of people in the early stages as the abuse and criticism is too much.
"They don't want to keep going and that's based on their own mental health because they don't want to put themselves in harms way. They don't think it's worth it.
"Footballers are part of a team and have a structure in place. Referees are far more isolated and although you have a match officials team at the weekend, during the week it's a lonely place as you don't always train together.
"You are left to get on with it yourself a lot of the time, and that's not a criticism of the structure, that just comes as part of the role."
Beaton came under particular pressure after an Old Firm match in 2018 and admits that was tough to deal with.
He said: "It was probably a turning point in terms of seeing the scrutiny that we are put under in games like that. The pressure on those games is incredible. It's about survival for the referees, players and managers.
"The feeling immediately after the match was that it had gone well for us as a refereeing team. But clearly the media fallout was such that the perception of my performance had very quickly changed."
Meanwhile, former Motherwell FC manager Terry Butcher is helping Carling and CALM (the Campaign Against Living Miserably) tackle mental health in a new campaign.
Butcher, whose son Chris died two years ago after suffering Post-Traumatic Stress Disorder (PTSD), said: "Mental health problems can tear individuals and families apart – our family is one of many that felt helpless and frustrated as we tried to understand our son's illness and despair.
"Chris very much felt isolated and alone, even though we were there for him; it would have been a great help to have had someone unconnected to the family to speak to. He did have a medical support team but it was at night that he felt most vulnerable – that's when he needed help the most."