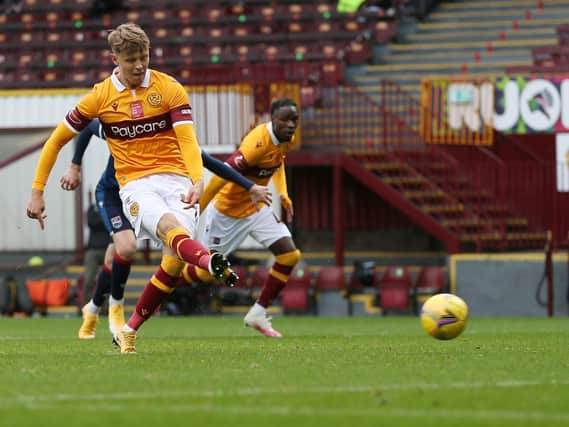 A defensive injury crisis led to gaffer Stephen Robinson installing the 24-year-old midfielder in defence for a Premiership encounter against the Highlanders which saw O'Hara score 'Well's second goal from the penalty spot.
"The last time I played at centre back was actually in my Kilmarnock days," O'Hara, with Killie from 2012 to 2016, told the Times and Speaker.
"I think I played there when I was 17 or 18 for a run of games.
"Last season I played there for Peterborough in pre-season, then the manager spoke to me through the week as we had problems with injuries and people not being available and he asked if I'd be comfortable, and I said 'yeah actually, I enjoy playing there.
"I feel you get plenty of time on the ball, and I think it suits me.
"Especially in this team, we actually build a lot from the back.
"Probably you're involved a lot more than what you'd be in other styles of play.
"I've not looked at the stats but on Saturday I think it would be the most passes I've had in a game this season because I had so much of the ball.
"The other side of it – the defending side – maybe comes quite naturally, heading and stuff like that, so it wasn't too foreign being in there.
"A lot can change in a week in football, but I'd be more than happy and willing to do it if I need to play there again next week and in the future."
Eighth-placed Motherwell head for Livingston this Saturday and if the Steelmen are awarded a spot kick it will likely see O'Hara step up again.
He added: "Any clubs I've been at previously have always had another penalty-taker, but it's something that I've always worked on. I've always done penalties.
"Having been involved in the Europa League, we've obviously been practising a lot of penalties as a team.
"The manager has obviously given me that role at Motherwell.
"I've always been quite sure of where I've been putting penalties," added O'Hara, who also netted from the spot in 'Well's 3-0 away penalty shootout success against Coleraine in this season's Europa League second qualifying round tie.
"I've not really felt the pressure. It's more that I'm excited at the prospect of having a chance to score."
After a sticky run of results at the start of this season, 'Well are eighth with 11 points from 10 games, having won three of their last four league games.
O'Hara said: "We were playing some nice stuff at the start of the season but not getting the results, then we managed to get a few good results.
"There was one disappointing result against Rangers, but in the two games before that we beat St Johnstone and Aberdeen, with a couple of European games thrown in.
"In the grand scheme of things, everything seems to be coming together hopefully at the right time, so this is a chance for us really to kick on with the opportunities we've got ahead, I think."
One negative to come out of Saturday's fine result was the bad knee injury sustained by goalkeeper Trevor Carson which threatens to keep him out for a few weeks.
Aaron Chapman, who replaced Carson, looks set to be between the sticks in the next league game at Livingston this Saturday, kicking off at 3pm.
"We know it's going to be a tough game obviously," O'Hara said.
"Livingston have done very well the last two seasons.
"We will need to match them, I think, physically and then hopefully our game will take care of itself.
"I think we've got to target top six anyway this season.
"With the strength we've got here, I don't see any reason why we can't do that.
"Hopefully, we can start adding to our results at the weekend and climb the table first and foremost."