St Mirren's 2022-23 paisley pattern away strip has been voted the best football kit in the Scottish Premiership, beating Celtic's green and black striped away kit into second place.
A new study conducted by casino comparison site JohnSlots, which uses data from Football Kit Archive to discover the most popular strips, is based on the average ratings and the number of overall votes each top-flight kit has received from a poll of 2,000 fans.
The Buddies black with a contrasting grey paisley pattern style jersey, provided by the club's brand partner Joma, came out in top spot with a total of 4.3-star rating and 111 votes. The St Mirren logo is placed on the left chest accompanied by Joma's logo on the opposite side and the team's sponsor logo, Digby Brown Solicitors, beneath.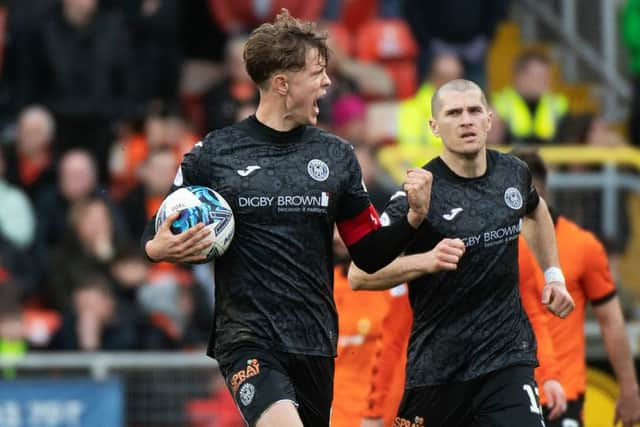 Created in 16th century Persia, its name derives from thw town of Paisley, where the textile industry became famous for producing the unique teardrop-shaped symbol pattern. It was also hugely popular in the Swinging Sixties.
Upon launching the new design, Saints club officials stated the away kit had been met with "unprecedented demand" from supporters, selling out in "record time."
Celtic's adidas-inspired away strip, which features a predominantly black colour with bold green stripe, has placed in second despite receiving the greatest number of votes (718) out of all teams, while Hearts' Umbro designed away kit, featuring a predominantly white with burgundy sleeve cuffs and polka dots throughout is in third spot. Neither of Rangers' home kit or fourth kit featured among the top five places.
A spokesperson from JohnSlots said: "St Mirren's 2022-23 Away Kit taking the top spot is no surprise as it features a simple black colour, making it easier to style compared to kits with bright colours. The paisley pattern throughout does give it a distinctive touch but keeps a subtle look with a grey hue.
"On the other hand, Celtic's Away and Home both feature bold contrasting details but have still made onto the top 10 list by sticking to what their fans are familiar with: a traditional green and white colour scheme.
"The results clearly show that football kits are not designed purely for the players to stand out on the field but also for fans to wear something they feel proud to be part of."
Most popular Scottish Premiership 2022-23 football kits
| | | | | |
| --- | --- | --- | --- | --- |
| Team | Season | Kit Type | Star Rating | Votes |
| St Mirren (18%) | 2022-23 | Away | 4.3 | 111 |
| Celtic (15%) | 2022-23 | Away | 4.2 | 718 |
| Hearts (12%) | 2022-23 | Away | 4.2 | 226 |
| Motherwell (11%) | 2022-23 | Away | 4.2 | 166 |
| Celtic (10%) | 2022-23 | Home | 4.1 | 635 |
| Hibernian (10%) | 2022-23 | Home | 4.0 | 117 |
| Kilmarnock (8%) | 2022-23 | Third | 4.0 | 104 |
| Rangers (7%) | 2022-23 | Home | 3.9 | 282 |
| Dundee United (5%) | 2022-23 | Home | 3.9 | 171 |
| Rangers (4%) | 2022-23 | Fourth | 3.8 | 170 |